Embraer Delivers 100th Super Tucano Aircraft
Written by thomas · Filed Under
Aeronautics News
May 26, 2009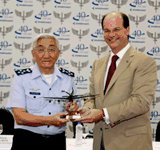 Caption: Frederico Fleury Curado (right), Embraer President & CEO, and Air Force General Juniti Saito, Aeronautics Commander, during the delivery ceremony of the 100th Super Tucano, on May 26.

Brazilian Air Force receives this advanced training and light attack airplane
São José dos Campos, May 26, 2009 –
Embraer delivered the 100th Super Tucano aircraft, today, at the Company's
headquarters in São José dos Campos, State of São Paulo, Brazil. The Brazilian Air Force
(Força Aérea Brasileira – FAB) established the technical-operational requisites for this
advanced turboprop, designated as the A-29 by the FAB, which has ordered 99 aircraft,
and now receives this commemorative unit.
"We are proud to deliver the 100th aircraft specifically to the FAB, which was the first to operate
the Super Tucano," said Orlando José Ferreira Neto, Embraer Executive Vice President, Defense
Market. "The FAB's ability to establish challenging requisites that reflect real operating
conditions was of paramount importance to our development of such a successful airplane. As a
result, the Super Tucano offers the market's best solution for more efficient tactical training, and
the best operational adaptation, by incorporating leading edge technologies."
Out of a total of 169 units sold, so far, Embraer has orders from the Air Forces of Chile, the
Dominican Republic, and Ecuador. The Super Tucano currently operates successfully with the
Brazilian and Colombian Air Forces on air space surveillance and operational missions.
The Super Tucano, in its single- and two-seat versions, entered service with the FAB in
December 2003, to be used both to train pilots and to fly operational missions. This flexibility
makes the Super Tucano the only aircraft in production, in the world, that is capable of handling
advanced pilot training, surveillance, and counter-insurgency missions, including at night, with
the aid of night-vision goggles, and electro-optical and infra-red sensors. It also operates on
rustic airfields and with a wide variety of qualified external load configurations.
Comments