Chilean Minister of National Defence and Commander in Chief of the Chilean Air Force visited FIDAE
Written by thomas · Filed Under
Aeronautics News
August 20, 2015
They noticed on site all the details of the organization and the key innovations for the forthcoming edition that will take place from March 29 to April 3, 2016.
August 13, the Minister of National Defence, Mr Jose Antonio Gomez, with the Commander in Chief of the Chilean Air Force, General Jorge Robles visited the facilities of the International Air & Space Fair, FIDAE.
The delegation was hosted by the Commander of the Logistics Command and President of FIDAE, Lt. General Alvaro Aguirre, along with the FIDAE CEO, Colonel Fernando Silva, who gave a presentation to the Minister introducing all the arrangements and different innovations for the 19th edition of the foremost aerospace, defence and security exhibition of the American continent.
On the occasion, Colonel Silva underlined about the work performed in its more than 35 years of existence, resulting in becoming the leading business platform of the region. Furthermore, he introduced the news for its next version, focusing on the demonstration static and in flight area for RPA/UAV (drones), as well the theme pavilions and the set of specialized conferences, among other aspects.
Afterwards, the State Secretary and General Robles visited with the FIDAE directors the pavilions and chalets that will host the different exhibitors of FIDAE.
At the end of the visit, Minister Gomez spotlighted the level of preparation for FIDAE and its importance "in the international scope as this attract Defence Ministers and Commander in Chiefs from different countries, as well the most important companies from the aeronautical sector".
"FIDAE is very important also for the relation of the Air Force with the population, which it is an opportunity to know on site its constant work towards the community", he added.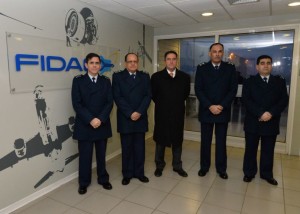 Comments