São Paulo, XX de maio de 2013 – Smiths Detection, enterprise security solutions for civil and military markets, will present at Airport Infra Expo 2013 some of its main security solutions focused the airport industry and used in major airports around the world. The third edition of the event takes place between 22 and 24 May, at the Transamerica Expo Center in Sao Paulo, SP.
"This year, Brazil has the challenge to attend, in terms of safety, the high flow of tourists will be arriving at Brazilian airports. The opportunity to implement the most modern systems in detection already exists and, if executed correctly, will enable us to give a qualitative leap in the segment leaving a legacy of a safer environment for everyone, "says Danilo Dias, CEO of Smiths Detection Brazil.
During the event, Smiths Detection will have two points of demonstration of their equipment. The first is located in Space Scenographic, environment of approximately 700 square meters in which, along with other major companies responsible for equipment and operating systems for the airport segment, the British company will demonstrate its solutions (operating) in order to reproduce visitors the routine of modern airports with the best security technologies in the world.
Visitors will know in space Scenographic the security solutions, such as:
SMD 600 Multizone: gantry metal detector for ultra-high sensitivity to all metal designed to satisfy the most stringent safety requirements, manufactured by CEIA and marketed by Smiths Detection.
HI-SCAN 6046si: X-ray equipment from Smiths Detection for baggage inspection with high image resolution, allowing operation in integrated network.
IONSCN 500DT: desktop system that is able simultaneously detect and identify trace amounts of explosives and narcotics. The apparatus may identify more than forty different types of chemicals in less than eight seconds.
Eqo: body scanner technology that uses millimeter waves to detect threat objects concealed under cloths or within shoes, such as: weapons, explosives, metals, liquids, narcotics among others. The system detects threats while preserving and respecting the privacy of the person being inspected.
In addition, the stand of Smiths Detection, located on Avenue C, will be presented a for the first time in Brazil a workstation showing the images provided by the equipment new HI-SCAN 10080 XCT system, high speed automatic detection of explosives in checked luggage that combines the use of scanner X-ray dual energy computed tomography (CT) in 3D.
Service:
AIRPORT INFRA EXPO 2013
2013 22 April to 24 April
Transamérica Expo Center / São Paulo – SP – Brazil
GENEVA, SWITZERLAND–(Marketwired – May 20, 2013) – (NYSE:CAE)(TSX:CAE) – CAE today announced at the European Business Aviation Conference & Exhibition (EBACE) that it is the first to offer maintenance training on the new Dassault Falcon 2000 LXS and 2000S aircraft platforms, including EASy II.
Maintenance training on these platforms is supplemental to initial Dassault Falcon 2000 EX EASy certification and curriculum includes additional model-specific content. The solution is also mobile with the possibility of training being delivered at the customer site using CAE's mobile Simfinity(TM)-based classroom which reduces travel expenses.
"By working closely with Dassault, we are continuously refining our training programs in order to enhance the safety and efficiency of Dassault Falcon operators every day," said Rob Lewis, CAE's Vice-President and General Manager, Business Aviation, Helicopter and Maintenance Training.
Maintenance training on these platforms complements CAE's EASy II pilot training offering, which was recently qualified to Level D, making CAE the first training provider to deliver training with the latest EASy II avionics for the 7X and 2000 EASy series.
In early 2013, Dassault awarded all CAE business aviation training centres worldwide a Falcon Training Policy Manual (FTPM) certificate, which validates that CAE is delivering superior quality training services for Falcon pilots and maintenance personnel. The FTPM is the highest level attainable by a Dassault Authorized Training Provider (DATP).
GENEVA, SWITZERLAND–(Marketwired – May 20, 2013) – (NYSE:CAE)(TSX:CAE) – CAE today announced on the eve of the European Business Aviation Conference & Exhibition (EBACE) the launch of Gulfstream G450/G550 training at CAE's London training centre in Burgess Hill, UK in 2014 and at the CAE Dallas training centre in the United States in late 2013. CAE already offers Gulfstream training in New York, USA; Dubai, UAE; and Shanghai, China.
"We are pleased to continue to expand training resource accessibility and options for our business aircraft clients," said Rob Lewis, CAE's Vice President and General Manager, Business Aviation, Helicopter and Maintenance Training. "We want our customers to be able to train anywhere in the world with ease and get the same exceptional quality and experience."
CAE offers business aviation training on more than 80 different aircraft platforms and operates over 60 full-flight simulators in a global network of ten locations, including Mexico City, Mexico; Amsterdam, Netherlands; Sao Paulo, Brazil; Melbourne, Australia; Shanghai, China; Dubai, UAE; London, UK; New York, Phoenix, and Dallas, USA.
GENEVA, SWITZERLAND–(Marketwired – May 20, 2013) – (NYSE:CAE)(TSX:CAE) – CAE today announced on the eve of the European Business Aviation Conference & Exhibition (EBACE) the signing of a multi-year contract renewal with ExecuJet Aviation Group for business aviation training on more than 40 aircraft types – including models for Bombardier, Cessna, Dassault, Gulfstream, Hawker Beechcraft, Boeing, Airbus, and Embraer.
ExecuJet pilots from the US, Europe, the Middle East, Africa and Australia will train at CAE centres in Mexico City, Mexico; Amsterdam, Netherlands; Sao Paulo, Brazil; Melbourne, Australia; Shanghai, China; Dubai, UAE; London, UK; New York, Phoenix and Dallas, USA.
"We are very pleased with the high-quality instruction and flexible service our pilots are receiving at CAE centers worldwide," said Quintin Cairncross, Group Flight Operations Director, ExecuJet Aviation Group. "We have come to rely on CAE for the high-quality training and safe operations that we pride ourselves on."
"We are delighted that ExecuJet has continued confidence in CAE to help them achieve their training objectives," said Jeff Roberts, Group President, Civil Simulation Products, Training and Services. "We will continue to offer cost-effective, best-in-class training programs and support them as they continue to grow their business."
CAE and ExecuJet Aviation Group will hold a photo-opportunity at EBACE at the CAE booth (#372) on Tuesday May 21, 2013 at 12:30 p.m.
- Dassault Falcon 7x, 900EX and 2000EX are the first programs
GENEVA, SWITZERLAND–(Marketwired – May 20, 2013) – (NYSE:CAE)(TSX:CAE) – CAE today announced on the eve of the European Business Aviation Conference & Exhibition (EBACE) the launch of CAE RealCase Troubleshooting for maintenance training. The innovative methodology is now available for the Dassault Falcon 7X, Falcon 900EX EASy, and Falcon 2000EX EASy models.
CAE RealCase Troubleshooting for maintenance training was developed using the same principles behind CAE RealCase for recurrent pilot training – incorporating recent real-life event scenarios into training. The content is fact-based and is supported by using CAE Simfinity(TM) simulation, Falcon FIELD 5(R), and Avionics interfaces using Central Maintenance Computer (CMC) messages and fault codes. Classroom exercises keep students engaged and provide a solid foundation to build and learn from.
"We are impressed with CAE's continuous innovation in its training offering," says Dean Anderson, Dassault's Director, Service Network and Maintenance Training. "CAE RealCase Troubleshooting is a leading-edge product which will ensure that Falcon maintenance personnel are trained to the high standard we need and expect."
CAE RealCase Troubleshooting maintenance training can be delivered at the customer site using CAE's mobile Simfinity(TM)-based classroom which reduces travel expenses.
CAE RealCase Troubleshooting is also available at maintenance training centres owned or operated by CAE and located in Dallas, New York/New Jersey, Little Rock and Phoenix in the United States, Dubai, UAE and Bordeaux, France.
In early 2013, Dassault awarded all CAE business aviation training centres worldwide a Falcon Training Policy Manual (FTPM) certificate, which validates that CAE is delivering superior quality training services for Falcon pilots and maintenance personnel. The FTPM is the highest level attainable by a Dassault Authorized Training Provider (DATP).
GENEVA, SWITZERLAND–(Marketwired – May 20, 2013)
Bombardier Aerospace announced today that it has expanded its leading Challenger family of business jets with the addition of the new Challenger 350 aircraft. The Challenger 350 jet was launched, with worldwide leader in private aviation NetJets(R) as the worldwide launch partner, at a special event at the European Business Aviation Conference and Exhibition (EBACE) in Geneva, Switzerland.
Deliveries of the aircraft are expected to begin in 2014.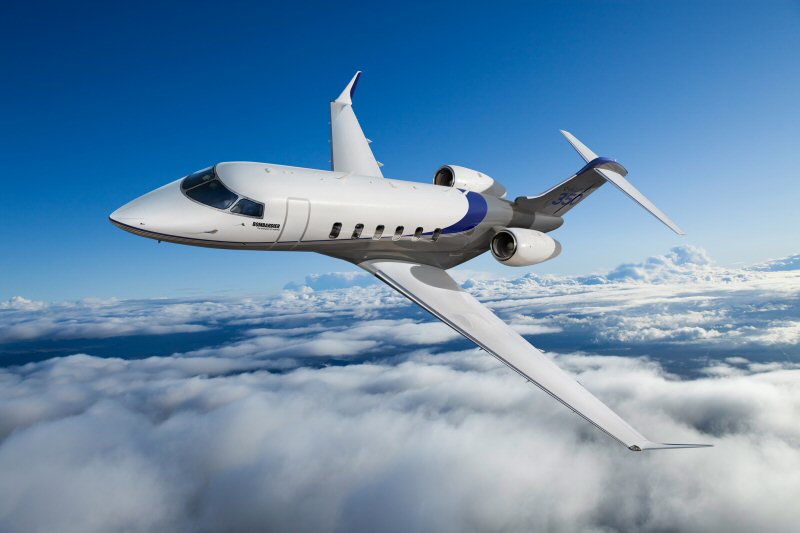 "The Challenger 350 jet will take our existing Challenger family to new heights," said Steve Ridolfi, President, Bombardier Business Aircraft. "This aircraft further enhances our leading business aircraft portfolio and will provide our customers with redefined design standards. Passengers will experience new comfort levels as they relax in the completely new cabin, enjoy a purpose-built and intuitive cabin management system and increase their efficiency with superior performance, and all at best-in-class operating costs. There is simply no substitute for a Challenger jet."
"Designed to meet the ever growing needs of our customers, this new aircraft reflects the feedback received from our existing Challenger customers. Based on our owners and operators' needs, we have taken the world's bestselling super midsize jet and further increased its capability to better meet the growing requirements of our ever expanding Challenger customer base worldwide," added Mr. Ridolfi.
Jordan B. Hansell, NetJets Chairman and Chief-Executive-Officer, said: "We are excited about the addition of our exclusive NetJets Signature Series Challenger 350 aircraft to our fleet and the tremendous value this aircraft will bring to our unmatched global capabilities and most importantly, to our customers. This super midsize aircraft will deliver an experience that meets both our customers' travel and comfort requirements. The inflight experience is exceptional and unlike any other. The aircraft has an exceptionally quiet cabin, allowing both serenity and conversation, soft, hand-crafted leathers, meticulously designed wood finishes, an in-flight entertainment system offering choices for every taste, and a single-service beverage maker, all designed specifically by NetJets."
"The cabin's design was all in an effort to allow our customers to relax and enjoy their flight whether for work or family. This state-of-the-art jet's cabin, designed in partnership with Bombardier Aerospace, will provide our discerning customers the best flight experience, along with the safety and reliability they expect from the worldwide leader in private aviation," added Mr. Hansell.
Performance and Efficiency
The Challenger 350 jet will offer increased performance from the new twin Honeywell HTF7350 engines, each producing 7,323 lbf (32.57 kN) of thrust and reduced emissions(i), increased aerodynamic efficiency with its new canted winglets and will fly eight passengers 3,200 nm (5,926 km)(i). The Challenger 350 jet boasts an impressive direct climb to 43,000 ft (13,106 m)(i).
Comfort
With a flat floor and the widest cabin in its class, the Challenger 350 jet features an entirely new interior, that lets even more natural light into the cabin with larger windows, resulting in a jet that offers passengers state-of-the-art cabin comfort, technology and productivity. Featuring Lufthansa Technik's next generation nice HD cabin management system, the cabin includes a complete redesign of the way passengers control the cabin environment, complemented by contemporary seat design, a new modular galley and the industry's most advanced sideledge featuring an authentic metal trim, a first in business aviation cabin interior design.


Avionics
The Challenger 350 aircraft's cockpit will feature Rockwell Collins Pro Line 21 Advanced. Features of the new avionics include, among others, synthetic vision, dual inertial reference systems, a completely paperless cockpit and Multiscan Weather Radar. The new avionics will provide pilots with increased situational awareness and reduced pilot workload.
Customer Support Network
Challenger 350 aircraft customers will be able to count on a full range of 24/7 support around the world. In preparation for a smooth entry-into-service, Bombardier Aerospace is currently reconfiguring a flight training device and Level D full-flight simulator at its aircraft training centre in Dallas, Texas. Customer Services staff deployed throughout its worldwide network of Service Centres, Parts Depots and Regional Support Offices will also be ready to support upcoming entry-into-service activities including spare parts deployments, as well as updated information on the Customer Information Centre (CIC) website and the SmartFix Plus online troubleshooting tool.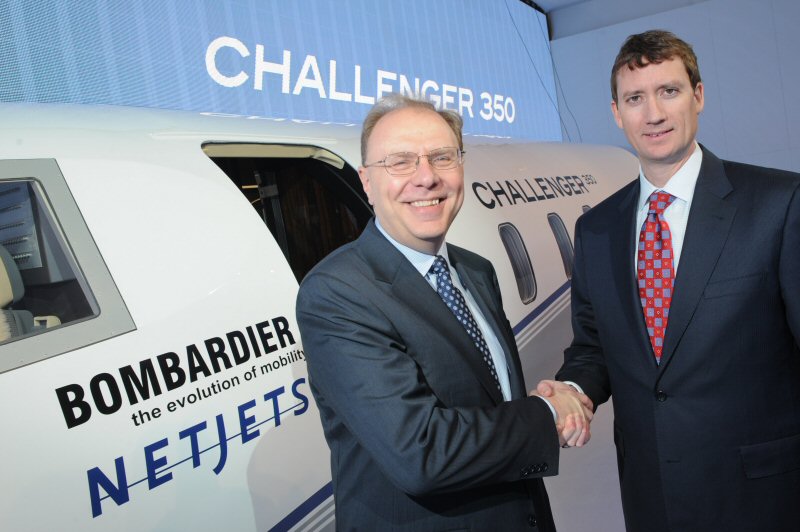 Painting of the first A350 XWB "MSN001" was today fully completed as it emerged in its Airbus livery out from the paintshop in Toulouse. This latest milestone shows that MSN001 is progressing well on its route to first flight.
The aircraft painting was achieved in less than seven days and follows the recent completion of MSN001's flight-test-instrumentation (FTI) verification. Last month the aircraft underwent its engines installation, and passed a subsequent intensive phase of ground vibration tests. MSN001 will soon start the final tests before its maiden flight this summer.
Three new lines of maintenance for Q400 and Q400 NextGen turboprops are now open to support long-term agreements with North American carriers
MONTREAL, QUEBEC–(Marketwired – May 7, 2013) – Bombardier announced today that it has opened three new lines of maintenance at its Tucson, Arizona aircraft service centre to boost heavy maintenance capacity for Q400 and Q400 NextGen turboprops. The new lines are housed in an existing hangar space on Tucson's 1,146,901 ft2 service centre, complementing existing maintenance capabilities for Q-Series aircraft at Bombardier's facilities in Bridgeport, West Virginia and Macon, Georgia.
Within the past year, Bombardier has secured several long-term heavy maintenance contracts with North American carriers seeking to maximize their operational efficiency. Bombardier's line and heavy maintenance offering for commercial aircraft is designed to maximize quality and return-to-service speed within a competitive, predictable cost structure. The facilities are backed by Bombardier's 24/7 technical help desks, in-service engineering teams and support staff deployed around the world.
"Our factory trained teams are solely dedicated to Bombardier aircraft and leverage their FAA Diamond-award winning expertise, and robust processes to bring significant quality and value to customers who choose our centres," said Stan Younger, Vice President, Aircraft Service Centres, Bombardier Aerospace. "Our capacity in Tucson has continued to expand on both the business and commercial aircraft fronts as we continue to grow deeper roots in the community."
Bombardier operates eight service centres in the United States – each of which received the FAA's 2012 AMT Diamond Award of Excellence. Three of the award-winning facilities – located in Bridgeport, West Virginia, Macon, Georgia and Tucson, Arizona – primarily provide 24/7 maintenance services for Bombardier commercial aircraft. Bombardier also operates a centre in Amsterdam and will open a 10th facility in Singapore in the second half of 2013.
FORT WORTH, TX (April 15, 2013) – Bell Helicopter, a Textron Inc. company (NYSE: TXT), drew significant attention last week in Rio de Janeiro, Brazil at the 2013 LAAD Defense and Security International Exhibition. The biennial event attracted more than 25,000 visitors and provided Bell Helicopter representatives an opportunity to connect with current and potential customers throughout Latin America.
"We have seen tremendous interest in our products throughout this region," said Jay Ortiz, managing director, Latin America Commercial Business. "LAAD allows us to visit with our Latin American customers and have further conversations with prospective customers about how Bell Helicopter can best meet their mission requirements."
During the show, Bell Helicopter signed a purchase agreement for a Bell 429, one of Bell Helicopter's most popular aircraft in the region. The light twin aircraft delivers exceptional speed, range and safety performance, and is a best-seller for corporate/VIP markets worldwide. Backed by Bell Helicopter's industry-leading service and support, it is a formidable competitor in the region.
"The Bell 429 is an outstanding aircraft for our customers in Latin America," said Ortiz. "Our customers repeatedly tell us the aircraft's performance, reliability and cabin configuration options make it ideal for corporate and VIP missions."
On display at the Bell Helicopter booth, the new Bell 407GT attracted crowds of customers and enthusiasts alike. The only helicopter on display inside the pavilion, it was consistently surrounded by show attendees and provided numerous opportunities for Bell Helicopter representatives to educate customers about the capabilities of the commercially-qualified helicopter possessing armament capabilities.
The Bell 407GT, unveiled at HELI-EXPO 2013, features a Garmin G1000HTM glass cockpit and a highly flexible and configurable weapons system for tactical operations, including infrared camera system with laser designation capability, weapons management system, universal weapons pylon (UWP), tactical radio suite and aircraft survivability equipment.
The Bell 407GT also features a night vision-compatible instrument panel and superior long-range reconnaissance and laser designation capabilities, with options including the Wescam MX-15DI and the FLIR Systems 230-HD. High-visibility windows and doors, sliding on both sides for rapid ingress and egress, also enhance situational awareness. A suite of aircraft survivability equipment is available to further enhance safety.
The Bell 429 is certified for Single or Dual Pilot IFR with a state-of-the-art fully-integrated glass cockpit, an advanced drive system that delivers power and superb performance and best-in-class WAAS navigation. The Bell 429 offers exceptional value as the first helicopter certified through the MSG-3 process, resulting in reduced maintenance costs for operators. Certified to operate at 7,500 pounds in seventeen countries, including Brazil, the increased gross weight configuration includes Helicopter Terrain Awareness Warning System (HTAWS), a radar altimeter, cockpit voice/flight data recorder and forward flashing lights.
London (November 27, 2012)  – VistaJet, the world's luxury aviation company, has placed a firm order for 56 new Bombardier* Global* aircraft, with 86 further options. With a list price value of more than $7.8 billion, this is the single largest transaction placed with any aircraft manufacturer in the history of business aviation. Deliveries of this order will commence in 2014.
Steve Ridolfi, President of Bombardier Business Aircraft, said:
"By any standard, this is a historic order for Bombardier.  It goes without saying that we are thrilled VistaJet has again chosen to grow their fleet with the industry-leading Bombardier Global family.
"We welcome VistaJet's ongoing commitment to global coverage within existing and developing new markets.  The Bombardier Global aircraft are perfect for VistaJet's business strategy as it is the ultimate business jet family, ideally suited to meet the demanding needs of both jet owner and customer alike."
"VistaJet recently took delivery of the 50th aircraft for their fleet, reflecting the company's ongoing commitment to maintaining the youngest fleet in the sky – with an average age of two years and all aircraft operating under the manufacturers' warranty."
The new Global aircraft order – comprising of 25 Global 5000*, 25 Global 6000*, and 6 Global 8000* aircraft, with options for a further 40 Global 5000, 40 Global 6000 and 6 Global 8000 jets – is a continuation of the company's strategic decision to fast-track the growth of the fleet, focusing on wide-cabin, long-range aircraft to provide non-stop point-to-point global coverage.  The new aircraft will directly service growth markets (including Russia, China, all of the Middle East and all of Africa), connecting them to the rest of the globe, as well as serving the East and West coast United States for their intercontinental travel needs.
Its global strategy has made VistaJet the clear market leader with unparalleled experience flying in to, and out of, the hardest-to-reach destinations around the world. Furthermore, VistaJet is the first commercial operator of the Global 6000 jet to lead the way in long-haul flights connecting the growth markets. VistaJet continues to "Think Global" and brings the most advanced and accomplished long-range premium aircraft family to their customers across the globe.
Thomas Flohr, Founder and Chairman of VistaJet said:
"This order is the most significant milestone for VistaJet and is a testimony to our successful strategy that focuses on global coverage.  Earlier in the year we announced landmark agreements with partners in both China and Russia and, since then, the level of demand we have seen in growth markets around the globe has been unprecedented.
"Our customers need to fly point-to-point across the globe, and in many instances at short notice. Whether it's a direct flight from Los Angeles to Shanghai, from London to Luanda or from Kinshasa to Ulan Bator, we are seamlessly connecting our customers to every corner of the world in unrivalled levels of style and safety.
"Such customer success allows us to place this historic order and will enable us to base even more brand new aircraft in these dynamic growth markets. I am excited to serve these markets with an unparalleled product both locally and globally."
In the air, VistaJet has been growing what is already one of the largest business aviation flight crew rosters worldwide to ensure that it has flight crew availability 24/7 anywhere in the world. VistaJet's pilots are rated amongst the most proficient in the world and have extensive experience in flying the longer-haul sectors to remote destinations that comprise the majority of the flights flown in 2012.
On the ground, VistaJet has doubled its dedicated sales force across these emerging markets to establish further presence and support for existing and new customers. These additions to our world-class sales team will be introduced during the course of Q1 2013.
Flohr concludes "carrying 25,000 passengers on 10,000 single international flights in 2012, VistaJet is the only luxury brand in aviation, which focuses on providing an understated and bespoke service. Flying with VistaJet is simple: innovative flight solutions are designed for each of our individual customer needs without any asset risk. Every flight is tailored ensuring customers travel in the best style and luxury with maximum safety, flexibility and value. This simple business model ensures the entire VistaJet fleet is made available to all our customers – with guaranteed availability within 24 hours notice – offering a truly global reach with no positioning costs."