Mexico has signed a contract with Airbus Defence and Space for the acquisition of two additional Airbus C295 medium transport aircraft for the Mexican Navy.
The agreement takes to 22 aircraft the total Airbus Defence and Space fleet in operation in the country, the biggest in Latin America.
The Mexican Navy, which is already flying four C295, six CN235 and two C212 aircraft, will operate these two new aircraft on a diverse range of transport missions for military, civil protection and humanitarian purposes
"We are very proud that Mexico, which already has the biggest Airbus Defence and Space fleet in Latin America, has shown its confidence in our products by deciding to increase again its C295 fleet", said Antonio Rodríguez Barberán, Head of Commercial for Military Aircraft.
Today the Mexican Air Force is operating six C295 and the Federal Police two CN235 aicraft.
More than 140 C295s have now been ordered by 19 countries.
Moscow, September 10, 2014
Press release
Rosoboronexport, a company of Rostec Corporation, is taking part in the First Azerbaijan international defence industry exhibition ADEX 2014 held on September 11-13 in the Expo Centre of Baku. ADEX 2014 is the first demonstration of modern weapons and vehicles in the state and the Caucasus. Over 150 companies from thirty countries will demonstrate their military products at this forum.
"Participation of Rosoboronexport in debut weapons and vehicles exhibitions has become a good tradition, – says Esen Topoev, head of the Rosoboronexport delegation at ADEX 2014. – The exhibition welcomes delegations from all the continents. And it is a great opportunity to demonstrate the best modern Russian weapons, increase the number of the foreign partners, continue strengthening of military and technical cooperation between Russia, Azerbaijan and other countries".
The display of Rosoboronexport is located in Pavilion 1 at stand № 1310. Modern Russian aviation, combat vessels and boats, armoured vehicles, rocket and artillery systems, close combat weapons and ammunition, key AD means and some training systems are exhibited in the form of mock-ups, booklets and multimedia presentations.
At the static display of the Russian exposition participants and guests of the exhibition will familiarize with a full-scale models of the Ka-52 combat reconnaissance and attack helicopter, the BMPT-72 fire support vehicle and the Msta-S self-propelled howitzer.
During the business program of the exhibition negotiations between the delegation and foreign partners of Rosoboronexport, leading international manufacturers of weapons and military equipment participating in the joint projects with Russia are scheduled. These mutually rewarding projects are implemented both for the benefit of the Russian Armed Forces and security agencies of the third parties.
Hyperspectral Payload will be first in the commercial industry
EL SEGUNDO, Calif., Sept. 10, 2014 – Boeing [NYSE: BA] has received its first commercial order for the 502 Phoenix small satellite from HySpecIQ of Washington, D.C. The satellites will carry the commercial remote sensing industry's first high-resolution hyperspectral payload, capable of providing spectral imaging fidelity that far exceeds what is currently available.
Boeing will deliver a complete satellite system initially consisting of two satellites, available for launch in 2018; command and control operations; image processing; and data storage of collected imagery. The contract includes options for long-term operations and maintenance.
"This combines a flexible satellite system design with an innovative business model, demonstrating our commitment to evolve our satellite portfolio into adjacent markets," said Craig Cooning, president of Network & Space Systems. "Our 502 Phoenix is well-suited for a range of missions that includes electro-optical imaging and remote sensing, space situational awareness and satellite communications."
Hyperspectral imaging is an information-rich technology that uses spectral color bands to identify objects and materials in an image. More than 200 spectral colors in the visible and shortwave infrared spectrum are collected to uncover diagnostic spectral patterns not visible to the naked eye. The technology provides valuable data and enables the delivery of information products to key markets, including the global oil, gas, mining, agriculture and environment monitoring industries, as well as U.S. government agencies and partner countries.
"Boeing's in-depth experience in hosting electro-optical payloads, coupled with its unmatched record in the delivery of commercial space systems, was the deciding factor in this award," said William R. Sullivan, HySpecIQ founder and executive chairman. "Working closely with Boeing's team will allow us to bring forward a technical design with unparalleled remote sensing capability that will set a new standard in this industry. We have every confidence that Boeing will deliver flawlessly in meeting our performance, cost and schedule requirements."
Boeing will manage sales, processing and distribution of the hyperspectral imagery products to the U.S. Government intelligence community, Department of Defense and international partner customers. HySpecIQ will manage sales, processing and distribution of the hyperspectral imagery products to the global civil and commercial market.
The satellites will be based on the Phantom Phoenix prototype, developed by Boeing Phantom Works. Boeing's sites in Huntington Beach and El Segundo, Calif., Puget Sound, Wash., Colorado Springs, Colo. and Springfield, Va. will support the program.
Exhibits showcase ballistic missile defense capabilities for evolving threats
HUNTSVILLE, Ala., Aug. 12, 2014 – Boeing [NYSE: BA] will showcase integrated air and missile defense solutions during the Space and Missile Defense Symposium at the Von Braun Center in Huntsville, Aug. 11-14.
"Our capabilities offer our military customers and our nation solutions to address the most complex air and missile defense system needs with innovation and affordability," said Jim Chilton, Boeing vice president and general manager, Strategic Missile & Defense Systems. "This forum allows us to learn as much as we can about our customers' needs."
Boeing will exhibit scale models and demonstrations of the Avenger, Ground-Based Midcourse Defense (GMD), High Energy Laser Mobile Demonstrator (HEL MD), Arrow weapon systems, and Patriot Advanced Capability-3 (PAC -3) Missile Seeker. Program executives and subject matter experts will be on hand to provide information on a variety of kinetic and directed energy applications and products. Boeing will also feature Phantom Eye, a High Altitude Long Endurance unmanned airborne system and a wide spectrum of solutions to address the evolving needs of the space and missile defense community.
A unit of The Boeing Company, Boeing Defense, Space & Security is one of the world's largest defense, space and security businesses specializing in innovative and capabilities-driven customer solutions, and the world's largest and most versatile manufacturer of military aircraft. Headquartered in St. Louis, Boeing Defense, Space & Security is a $33 billion business with 56,000 employees worldwide.
Final aircraft delivered
Airbus Defence and Space has delivered the last of nine P-3 Orion anti-submarine warfare (ASW) aircraft modernised with new systems and avionics for the Brazilian Air Force (FAB). The aircraft has been ferried from Seville, Spain to Salvador de Bahía, Brazil, where it will be based.
The nine aircraft were acquired by the FAB from the US Navy in 2006, along with three more to be dismantled for spares, and were upgraded at facilities in Seville and Getafe, near Madrid.
In the aircraft Airbus Defence and Space installed its Fully Integrated Tactical System (FITS) and a completely new suite of mission sensors, communications systems and cockpit avionics. In addition, the aircraft engines and structures were updated, extending the fleet´s operational life for many years to come and providing Brazil with a modern and highly effective asset suitable for military and civic duties including anti-submarine, maritime patrol, search and rescue, and economic exclusion zone enforcement.
Under the terms of the contract, Brazil is benefitting from a comprehensive package of offsets including a range of industrial projects as well as training and research in the aerospace sector.
"This has been a large and complex programme and we are very proud of the work done in upgrading the Brazilian P-3 fleet. The FAB now has one of the most modern fleets in its class", said Antonio Rodríguez Barberán, Head of Commercial for Military Aircraft with Airbus Defence and Space.
Airbus Defence and Space has modernised a total of 12 P-3 Orions, nine for the Brazilian Air Force and three for the Spanish Air Force.
Mission system enhancements provide more actionable information, increase efficiencies
SEATTLE, July 22, 2014 – Boeing [NYSE: BA] on July 17 delivered on schedule the first of four upgraded French Airborne Warning and Control System (AWACS) aircraft. The upgraded aircraft will increase the fleet's surveillance, communications and battle management capabilities.
The Mid-Life Upgrade – the largest set of modifications to AWACS aircraft for France – will provide the crew with more actionable information and better situational awareness and increase mission effectiveness and efficiencies.
"The focus, commitment and hard work among Boeing, Air France Industries and French and U.S. government teams were key in achieving this milestone on schedule," said Steve Swanz, French AWACS program manager for Boeing.
Delivery followed ground and flight tests at Avord Air Force Base and qualification by France's Direction Générale de l'Armement.
"The French Mid-Life Upgrade program is a model for enhancing intelligence and surveillance capability within the armed forces. This program also demonstrates Boeing's enduring commitment in providing the French Air Force with a superior air battle management capability," said Yves Galland, president of Boeing France.
Modifications to the other three French AWACS aircraft are scheduled for completion by the third quarter of 2016.
Boeing, as prime contractor, provides hardware, software, engineering and quality assurance support. Air France Industries KLM Engineering & Maintenance, a Boeing subcontractor on the project, is upgrading the electrical, mechanical and structural systems and mission hardware on the aircraft.
A unit of The Boeing Company, Boeing Defense, Space & Security is one of the world's largest defense, space and security businesses specializing in innovative and capabilities-driven customer solutions, and the world's largest and most versatile manufacturer of military aircraft. Headquartered in St. Louis, Boeing Defense, Space & Security is a $33 billion business with 56,000 employees worldwide. Follow us on Twitter: @BoeingDefense.
First "wet contacts" conducted in latest trials
Airbus Defence and Space has performed the first air-to-air refuelling of the Airbus A400M new generation airlifter from the A330 MRTT Multi Role Transport Tanker. In the course of four flights, by day and night, in southern Spain, the A400M received more than 80 tons of fuel in 100 "wet contacts" from a Royal Air Force Voyager version of the A330 MRTT using the tanker´s Fuselage Refuelling Unit. The trials follow dry contacts conducted in an earlier test-phase and support the A400M´s capability to conduct extremely long-range non-stop deployments. The photo shows the two aircraft framed by the wing of an F-18 chase aircraft.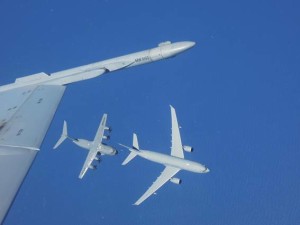 Agreement will help ensure U.S. cruise missile readiness
HEATH, Ohio, July 14, 2014 –The U.S. Air Force has extended Boeing's [NYSE: BA] work remanufacturing warhead arming devices for the nation's air-launched cruise missile (ALCM), helping to ensure the readiness of the system.
Under a new two-year contract, valued at $7.3 million, Boeing will remanufacture warhead arming devices for the air-launched cruise missile. The contract includes an option for six additional years at an estimated value of $50 million.
"Providing these production systems to the Air Force fleet on schedule is our number one goal," said Peggy Morse, vice president, Boeing Directed Energy & Strategic Systems. "This contract is a testament to the ALCM team's expertise and commitment to support national security."
Boeing has worked on ALCM since its conception. The ALCM is a long-range subsonic, self-guided missile that can be launched far from hostile territory and still reach its target.
The Boeing team in Heath will continue to perform all manufacturing and acceptances testing on the warhead arming devices to meet the Air Force's original design requirements. The work is being done for the Air Force Nuclear Weapons Center Missile Sustainment Division, located at Tinker Air Force Base, Okla.
"Our maintenance, repair and overhaul facility remains ready and uniquely qualified to continue remanufacturing these devices," said Ellen Power, Boeing Heath center director. "This agreement will not only sustain work at this site but will support the economic security of Boeing's supplier base in Ohio, which is the largest in the United States."
Boeing's Strategic Fabrication Center in Heath also maintains the Air Force's Minuteman III intercontinental ballistic missiles, and tests, repairs and calibrates almost every type of military aircraft guidance and navigation system for the Air Force, Navy and allied nations.
A unit of The Boeing Company, Boeing Defense, Space & Security is one of the world's largest defense, space and security businesses specializing in innovative and capabilities-driven customer solutions, and the world's largest and most versatile manufacturer of military aircraft. Headquartered in St. Louis, Boeing Defense, Space & Security is a $33 billion business with 56,000 employees worldwide. Follow us on Twitter: @BoeingDefense.
Defence and security company Saab and the Empire Test Pilots' School (ETPS), operated by QinetiQ, have strengthened their unique test pilot training partnership with the signature of a new multi-year cooperative agreement. Saab will support ETPS flight operations with the Gripen D fighter over a four-year period, from 2015 to 2018.
ETPS and Saab have signed a new, multi-year framework agreement for the provision and use of Gripen D fast-jet aircraft and associated requirements, for the ETPS fixed-wing European Aviation Safety Agency (EASA) compliant Test Pilot and Flight Test Engineer courses. The original agreement has been in place since 1999 and, under the terms of the new framework, Saab will support ETPS from 2015 until 2018. Ongoing Gripen activity for 2014 is already covered by the existing agreement between the two organisations.
Earlier this year ETPS transitioned from Gripen B to Gripen D which provides access to a very advanced fast jet platform with a unique systems testing capability. The use of this smart fighter aircraft is cemented in the new framework agreement and underlines the long-term commitment by ETPS to the Gripen platform.
"Since 1999 Gripen has trained more than 70 test pilots and provided more than 800 hours for the ETPS. Saab has a record of 100 per cent on-time delivery with a jet that is totally reliable. The relationship between Saab and the ETPS is something really unique. This new framework agreement streamlines our future work together, and affirms the commitment both sides have to our relationship. I see it as an important link between companies, and between countries, says", Håkan Buskhe, Saab's President and CEO.
"Professional flight test training delivered by ETPS is an important part of the Long Term Partnering Agreement with the UK MoD. ETPS provides a global customer base with world-class flight test training that underpins the increasingly complex nature of air test and evaluation", says Leo Quinn, CEO of QinetiQ Group.
ETPS has been training test pilots and flight test engineers with Gripen since 1999. The Gripen aircraft gives students invaluable experience with an advanced, agile, fly-by-wire aircraft for handling and evaluation purposes. Flight operations are conducted at Saab's Flight Test Department in Linköping, with ETPS instructor pilots flying under Saab supervision. Campaigns typically last for one week in May and four to five weeks in August and September. Saab provides
ETPS with supervisory pilots, the Gripen aircraft, logistics, ground support and facilities. Additional Saab SK 60 aircraft are also provided to act as radar targets for training.
Embraer and Saab have signed a Memorandum of Understanding to partner in joint programme management for the F-X2 Project, pursuant to the selection of the Gripen NG as Brazil's next generation fighter jet. Under this agreement, Embraer will perform a leading role in the overall programme performance as well as undertake an extensive share of work in the production and delivery of both the single and two-seat versions of the state-of-the-art Gripen NG aircraft for the Brazilian Air Force.
Embraer will coordinate all development and production activities in Brazil on behalf of Saab and, in addition to its own extensive work packages, will participate in systems development, integration, flight tests, final assembly and deliveries.
Furthermore, Embraer and Saab will be jointly responsible for the complete development of the two-seat version of the Gripen NG, at the same time that a strategic partnership for future global promotion and marketing of both single and two-seat versions is being discussed between the two companies.
"Embraer and Saab both have a long tradition in the defense market and will now work together to provide high-quality and affordable solutions for
Gripen NG customers. This agreement will strengthen the ties between the defense industries of Brazil and Sweden," says Jackson Schneider, President and CEO of Embraer Defense & Security.
"We are happy to announce this partnership with Embraer. Not only do we share experience in the defense and aeronautical markets, but both organisations have a clear dedication to customer satisfaction. Through this partnership we will secure an excellent result for the Brazilian Air Force and we will establish solid ground for success with future business opportunities and customers," says Saab's President and CEO Håkan Buskhe.
"In addition to re-equipping the Brazilian Air Force, the F-X2 project is meant to stimulate Brazil´s defense industrial base. This partnership between Embraer and Saab will be of great importance to Brazil, because, besides participating in the development, we will be able to autonomously maintain our fleet. Embraer, as a high tech manufacturer of commercial jets, and Saab, with its tradition in the development of fighter aircraft, are complementary businesses that certainly enjoy great gains with this agreement", says Lieutenant-Brigadier Juniti-Saito, Commander of the Brazilian Air Force.
The Gripen NG is a true multi-role fighter aircraft, based on the proven Gripen C/D platform. It is built to adapt to all of the changing threats and operational requirements that modern air forces face. Gripen's combination of very advanced operational capabilities with moderate through-life costs make the fighter absolutely unique on the world market.
The agreement will be implemented following a successful conclusion of the ongoing discussions between Saab and Brazil relating to the finalization of F-X2 contracts. These talks are proceeding as planned and it is hoped to reach a positive outcome by the end of 2014.