La competencia en el sector aeroportuario crece a un ritmo vertiginoso como consecuencia de los cambios extraordinarios que ha sufrido la industria aeronáutica en años recientes. Este fenómeno ha requerido la inversión de grandes cantidades de capital para poder satisfacer las necesidades de los involucrados en el sector, así como de los pasajeros. Teniendo en cuenta esto, los tradicionales modelos de administración aeroportuaria se vuelven obsoletos para los gobiernos con restricciones en su capacidad de financiamiento. Desde principios de la década de los ochenta, ha habido una evolución en este sentido, en cuanto a que actualmente gran parte de los gobiernos no observan los aeropuertos exclusivamente como parte de una infraestructura, sino como potenciales empresas generadoras de ingreso. Avances en eficiencia operativa, una aproximación más orientada al cliente, así como capacidad de juicio más objetiva en términos de inversión, son solo algunas de las ventajas que la privatización aeroportuaria ofrece. Sin embargo, las cosas no son simples en lo referente a privatizaciones aeroportuarias. Se toman grandes riesgos cuando se elaboran acuerdos entre el estado y los particulares. Las decisiones no pueden ser tomadas ligeramente y políticas apropiadas deben considerarse para mantener el interés público en cualquier caso. En América Latina, este fenómeno se ha evidenciado principalmente en la implementación de procesos de concesión aeroportuaria. Estos permiten a los gobiernos mantener posesión de los recursos aeroportuarios, al tiempo que se obtienen los beneficios de las inversiones de un jugador privado.
Los procesos de privatización aeroportuaria experimentados en países como Argentina, Bolivia, Chile, República Dominicana y México, ofrecen un marco de referencia en los resultantes beneficios y perjuicios para todos aquellos involucrados en la industria, así como para los viajeros. Considerando estos casos, ¿cuáles cree usted que han sido estos beneficios y perjuicios desde los diferentes puntos de vista? Teniendo en cuenta procesos de licitación controversiales como el recientemente experimentado en Colombia, ¿cuál es su opinión sobre la forma como estas licitaciones se han llevado a cabo en América Latina?
Market competition in the airport business grows at a steep rate due to the extraordinary changes this industry has been undergoing in the last few years. In turn, this requires the investment of large amounts of capital in order to meet travel demand. In sight of this, traditional airport management models become obsolete for governments troubled with ineffective airport financing. From the early eighties there has been an evolution in the traditional airport management model, so that nowadays governments no longer observe airports as part of the general infrastructure, but rather as impending profit making enterprises. Advancement in operating effectiveness, a more consumer oriented approach as a consequence of new management styles and marketing ability, as well as superior investment judgment, are just some of the main economic advantages privatization has to offer. Yet not everything is ship-shaped and above board when it comes to privatization. A fair deal lies on the line as risks have to be taken and management from official authorities has to be cautious and straightforward. Decisions cannot be taken briskly and appropriate policies have to be pondered in order to uphold the public interest. For Latin America, this has mostly meant the introduction of concession contracts in the airport industry. These allow the government to maintain tenure of airport resources whilst gaining from the investment of private supporter.
Privatization processes experienced by countries such as Argentina, Bolivia, Chile, Dominican Republic and Mexico offer a framework on the resultant benefits and drawbacks for those involved in this industry, as well as for travelers. Considering this, what do you think these benefits and drawbacks have been? Taking into account controversial licitation processes as contentious as the one recently experienced in Colombia, what is your opinion on the way these bids have been carried out in Latin America?
Algunos dicen que no debió ser retirado. Algunos, que estaba en su mejor momento. Otros, que era mejor avión que el FA/18. Todos lo admiraban.
Entonces, ¿porqué fue completamente (y definitivamente) retirado a finales del 2006, cuatro años antes de lo agendado?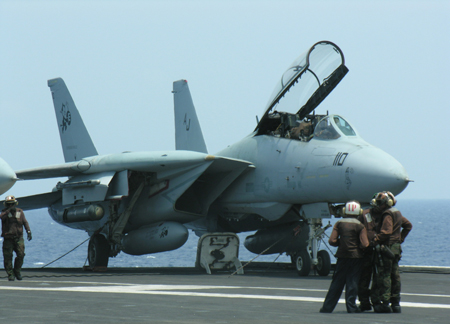 Foto: Pablo Romay
Some say it shouldn't have been retired. Some say it was at the top of its game. Others say it was a better plane than the FA/18. Everybody loved it.
So, why was it completely (and definitely) retired near the end of 2006, four years before the time it was scheduled to?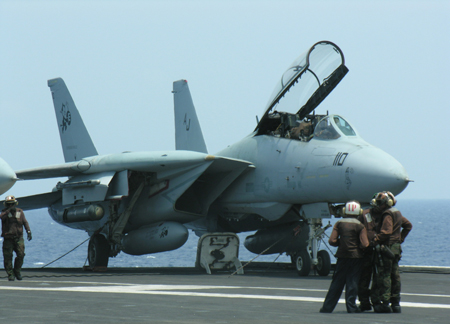 Photo: Pablo Romay
We are pleased to open a new page in the 71 year history of Revista Aerea. RA has always been the premier source of Aeronautic news for Latin America, but now RA is working to become the premier online information exchange about Latin American aviation. On our new site you will not only find news, but you will be able to hear the opinions and analysis from our staff of industry experts and even more interesting, you may offer your own views on the issues transforming aviation in Latin America and beyond.
Welcome aboard! Drinks are $5 a piece, except for in first class where they are complimentary.
<