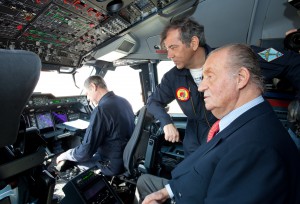 Su Majestad el Rey Don Juan Carlos I se ha convertido hoy en el primer Jefe de Estado que vuela en el Airbus Military A400M, el avión de transporte militar de nueva generación que se ensambla en Sevilla. Con el piloto jefe de pruebas "Military" de Airbus, Edward "Ed" Strongman, y el piloto de ensayos experimentales, Ignacio "Nacho" Lombo, el Rey de España realizó un vuelo local de unos 40 minutos de duración desde la base de Torrejón, cerca de Madrid.
Durante el vuelo, el Rey, piloto experimentado, tomó los mandos del avión durante 20 minutos a una altitud de alrededor 10.000 pies y realizó una serie de maniobras, incluyendo virajes, y simulando el lanzamiento de carga humanitaria.
Su Majestad estuvo acompañado por el Ministro de Industria, José Manuel Soria, el presidente y consejero delegado de Airbus, Tom Enders, el presidente y consejero delegado de Airbus Military, Domingo Ureña y el responsable de ensayos en vuelo e integración de Airbus, Fernando Alonso.
La foto muestra al Rey Don Juan Carlos I con el responsable de ensayos en vuelo e integración de Airbus, Fernando Alonso, en la cabina del A400M.
A CAE Simfinity integrated procedures trainer (IPT) enables a cockpit-like experience for Dassault Falcon maintenance students.
16/01/2012
A Falcon maintenance technician training program which blends CAE simulation-based theoretical instruction with the option for practical aircraft experience at Dassault's factory is completing its second year in Bordeaux, France.
The EASA approved four to five week B1/B2 training program began in January 2010 and has trained more than 200 Falcon 7X, Falcon 900EX EASy and Falcon 2000EX EASy technicians from around the world for Falcon operators, the Dassault front-line Customer Service Team and maintenance, repair and overhaul (MRO) facilities.
In addition to instructors with more than 25 years average experience, the theoretical program features CAE SimfinityTM simulation-based multi-screen classrooms, 360-degree virtual tours of the cockpit, aircraft cabin and service bays, a CAE Simfinity Integrated Procedures Trainer, and visits to the Dassault factory to visualize aircraft during early production stages and near final certification. Timed to coordinate with the CAE training schedule, Dassault Aviation also offers a two week follow-on EASA approved practical training course leading to a type-rating maintenance certification.
CAE has passed the rigorous requirements of Dassault Aviation's Falcon Training Policy Manual (FTPM) quality system audit, the highest level attainable by a flight and maintenance training organization.
WICHITA, Kan. (Jan. 9, 2012) – Hawker Beechcraft Defense Company (HBDC) today announced the first sale of its new Beechcraft T-6C+ military trainer to the Mexican Air Force (FAM). The T-6C+, an enhanced version of the T-6 military trainer aircraft, is capable of carrying external stores and delivering practice weapons for training purposes. The first two of six contracted FAM T-6C+ aircraft will be delivered to an advanced training base in Mexico's northern region in early 2012. The new T-6C+ trainers will replace the FAM's aging PC-7 fleet.
"We look forward to providing the Mexican Air Force with the highly effective, ultra-reliable and low-maintenance Beechcraft T-6C+," said Jim Maslowski, president, HBDC. "We see this sale of six aircraft as just the beginning of a long and productive relationship with the FAM."
The T-6C+ features hard-point wings, Heads-Up Display, Up-Front Control Panel, an integrated glass cockpit and an advanced Esterline CMC Cockpit 4000 avionics suite that greatly expands advanced training opportunities. The systems are integrated with a Hands-On Throttle and Stick (HOTAS), providing the student pilot and instructor with a simpler interface to the digital cockpit. The CMC Cockpit 4000 avionics suite is the first in its class to incorporate a fully integrated and FAA-certified dual FMS/GPS navigation suite that meets the required navigation performance standards for current worldwide airspace equipment. The open architecture design of the Cockpit 4000 provides the flexibility to expand capabilities and continuously meet current and future training needs.
In addition to accommodating instruction in instrument flight procedures and basic aerial maneuvers, the T-6 delivers world-class training capability that is appropriate for teaching the most basic introductory flight training tasks through the more challenging and complex advanced training missions that could previously be accomplished only in far more expensive jet aircraft.
Deliveries of the T-6 began in 2000 after the aircraft was initially selected to fill the Joint Primary Aircraft Training System role for the U.S. Air Force and the U.S. Navy. Since then, additional military programs worldwide, including NATO Flying Training in Canada, the Hellenic Air Force of Greece, the Israeli Air Force, the Iraqi Air Force and the Royal Moroccan Air Force, have chosen the T-6 and its derivatives as their primary trainers. To date, the T-6 has been used to train pilots, navigators, and weapons systems operators from approximately 20 different countries.
FORT WORTH, TEXAS (October 24, 2011) – Bell Helicopter, a Textron Inc. company (NYSE: TXT), announced today it has received type certification for the Bell 429 from the Civil Aviation Administration of China.
"This is an important milestone as Bell Helicopter continues to grow its presence within the Asia Pacific region," said Larry D. Roberts, senior vice president for Bell Helicopter's Commercial business.
"Our customers like the speed, power and the advanced cockpit technology that the Bell 429 delivers. Along with the largest cabin in its class, it offers a smooth, comfortable ride. The interior environment can be tailor-made to meet the most demanding requirements for style, comfort and individuality. The Bell 429 is reliable, conforming to the latest airworthiness standards, and is backed by Bell Helicopter's award-winning and industry-leading customer service and support," Roberts said.
The Bell 429 has conducted extensive flight demonstrations in every continent, except Antarctica, and has been certified in more than 40 countries.
With configuration options ranging from VIP to air-medical, law enforcement, utility and oil & gas, the Bell 429 offers superior mission capability and adaptability.
LAS VEGAS, Nev., Oct. 11, 2011 – Piper Aircraft Inc. and Airline Transport Professionals reached
Todd Outcalt, Director of Business Development for ATP shakes hands with Jackie Carlon, Director of Marketing for Piper Aircraft at NBAA.
agreement today at NBAA for the sale of as many as 30 Piper Seminoles with a total retail value of $18 million. Piper and ATP jointly made the announcement at the 2011 National Business Aviation Association (NBAA) Annual Meeting and Convention here.
Airline Transport Professionals (ATP), a nationwide firm specializing in airline pilot training and pilot career development agreed to initially purchase a fleet of 10 additional Piper Seminole multi-engine piston-powered advanced training aircraft for delivery in 2012.
In addition to the firm 10-aircraft fleet order, ATP has an option for 20 additional Seminole aircraft for delivery in 2013 and 2014. While both companies are not disclosing the fleet purchase price, the retail value of 30 Piper Seminoles for delivery in 2012-2014 is more than $18 million.
All Equipped with Garmin G500
All of the new airplanes under the agreement will be equipped with Garmin G500 glass cockpit avionics suites. The G500 is a PFD/MFD dual-screen electronic flight display. Dual 6.5-in. LCDs, mounted side-by-side in the bezel, put both Primary Flight Display (PFD) and Multifunction Display (MFD) capabilities directly in instructor and student field of view to help streamline instrument scanning and enhance situational awareness.
"This additional order demonstrates confidence on the part of ATP in Piper Aircraft and particularly, the Seminole, which has proven itself in hundreds of thousands of hours of flight school training around the world," says Piper President and CEO Geoffrey Berger. "Students in training appreciate the Seminole's ability to help them learn advanced flight maneuvers and procedures while ATP instructors appreciate the airplane's ability to teach these lessons in a safe and forgiving manner."
"ATP chose the Piper Seminole because of its dispatch reliability, compatibility with our existing fleet, and ATP's continuing commitment to providing high-quality multi-engine flight training and experience to pilots of all certification levels," said ATP Vice President Jim Koziarski, "This large fleet purchase will enable ATP to provide students with the latest in technology and high quality training aircraft."
In 2010, ATP purchased a fleet of six additional Seminoles for delivery during the year, bringing its total Piper fleet to 88 aircraft. The company also operates 57 Cessna 172s, five Diamond DA40s and a CitationJet. The new Piper Seminoles are powered by two Lycoming O-360-A1H6 engines each generating 180 hp, with a 2,000-hour time between overhaul. Seminoles have a 15,000-foot service ceiling.
LAS VEGAS, NEVADA (October 10, 2011) – Bell Helicopter, a Textron Inc. company (NYSE: TXT), announced today that its newest version of the popular Bell 407 – the 407GX – has earned Federal Aviation Administration (FAA) certification following its certification by Transport Canada earlier this year.
Since the Bell 407GX was introduced in February at the 2011 HELI-EXPO annual convention in Orlando, Fla., Bell Helicopter has received more than 60 orders, with the first expected to deliver later this year.
Built on the success of the Bell 407 , the 407GX is the only helicopter equipped with the innovative Garmin G1000HTM integrated glass flight deck, making it the most advanced light, single-engine rotorcraft on the market.
The 407GX's integrated glass flight deck provides aircrews essential flight information at a glance for greater situational awareness, improved operational capability and increased safety.
The advanced cockpit features two 10.4" high-resolution LCD displays with an intuitive, easy to scan layout and an integrated avionics system that presents flight instrumentation, navigation, communication and identification information. Integrated safety features include:
·         Traffic Information System (TIS)
·         Helicopter Synthetic Vision Technology (HSVT™)
·         Moving map
·         Helicopter Terrain Avoidance Warning System (HTAWS), and
·         Range ring calculation
Engine and crew alerting systems such as power situation indicators (PSI) and fuel flow, as well as automatic power assurance checks, are additional benefits of the Garmin G1000HTM integrated flight deck. The advanced suite features critical flight parameter storage on an SD card for post flight analysis.
WICHITA, Kan., Sept. 26, 2011 ˜ Cessna Aircraft Company, a Textron Inc. (NYSE: TXT) company, today launched the Citation M2, a new light business jet that fills the gap between the Citation Mustang and the Citation CJ family.
The Citation M2 features Garmin G3000 avionics, engines similar to those found in the Citation CJ series and an all-new cabin design. The aircraft is an aluminum airframe with a T-tail and a straight wing that includes LED lights. A cabin mock-up of the Citation M2 will be on display at Cessna's exhibit in the Las Vegas Convention Center during the 64th NBAA Annual Meeting and Convention Oct. 10-12.
With room for two crew and up to six passengers, the $4.195 million Citation M2 has a maximum cruise speed of 400 knots true airspeed (741 kilometers per hour) and a range of 1,300 nautical miles (2,408 kilometers). The aircraft can operate at airports with runways as short as 3,250 feet (991 meters) and will climb to 41,000 feet (12,497 meters) in 24 minutes.
"Operator feedback and owner insight have indicated a market for a Citation with the size, speed and range of the Citation M2. We expect to see customers new to the Citation family, Mustang owners looking for a logical next step or CJ1+ operators who want a new, more advanced Citation," said Scott Ernest, Cessna president and CEO.
The Citation M2 is powered by a pair of FADEC-controlled Williams International FJ44-1AP-21 turbofan engines, each producing 1,965 pounds of thrust. This new and improved version of Williams' FJ44 engine incorporates improvements gleaned from more than 6 million hours of operation of the 4,000 FJ44 engines in service. The FJ44-1AP-21 produces 10-15 percent more altitude thrust (depending on conditions) and consumes less fuel at long range cruise than the previous version, enabling the M2 to climb quickly and cruise fast and far. The engine also provides significantly higher performance at hot and high conditions and an increase in the time between overhaul (TBO) from 3,500 to 4,000 hours.
The Citation M2′s clean cockpit design is anchored by the fully integrated Garmin G3000 avionics suite that seamlessly integrates numerous system components into an easy-to-use flightdeck to simplify operation and enhance situational awareness during flight and when taxiing. The G3000 system centers on three 14.1-inch LCD primary and multifunction displays and two infrared, touch-screen control panels. The touch-screen controllers react to changes in an infrared grid rather than traditional surface resistance sensors for better response under a variety of conditions. The controllers allow multi-function display page navigation as well as audio and FMS control. The MFD and PFD provide split-screen capability so that two separate vertical pages may be viewed side-by-side. Pilots may simultaneously view maps, charts, TAWS, flight planning or weather.
Popular options from other Citation models are standard on the Citation M2. Among the standard features of the avionics system are weather radar, TCAS I, terrain awareness and warning system (TAWS) and ADS-B Out.
From the cockpit divider aft through the rear lavatory, the main passenger cabin of the Citation M2 is 58 inches wide (1.47 meters) and 11 feet (3.3 meters) long with a 5-inch dropped aisle providing a cabin height of 57 inches (1.45 meters). Eight large windows, roomy pedestal seats and intuitive cabin appointments highlight the all-new interior, of which materials and colors can be hand-selected by customers.
Cessna's proprietary cabin management system that includes the latest interface options for greater in-flight productivity and connectivity is optional.
First flight of the new Citation M2 will be in the first half of 2012, with Federal Aviation Administration certification (Part 23) expected in the first half of 2013, followed by deliveries beginning in the second half of 2013.
LABACE 2011, 11-13 August, São Paulo Brazil, Booth: 4019
AVIATOR portfolio presented at LABACE
Leading satellite communications equipment manufacturer Thrane & Thrane is highlighting capabilities of its AVIATOR SwiftBroadband portfolio during this year's LABACE. The cutting-edge AVIATOR product family supports the use of Inmarsat's SwiftBroadband service aboard the widest range of aircraft possible, offering a solution to meet a host of customer needs in terms of bandwidth, equipment size and budget.
"LABACE offers an excellent platform to present the AVIATOR product range to the South American aviation market for the first time. With the recent certification of the AVIATOR 200, Thrane & Thrane now offers a comprehensive portfolio of SwiftBroadband solutions which support a broad range of user requirements for connection speed, equipment size and budget for communications in both the cockpit and the cabin," comments Andy Beers, Director of Aeronautical Sales Americas, Thrane & Thrane.
Thrane & Thrane's product range includes the AVIATOR 700 and AVIATOR 350 High Gain Antenna (HGA) options, AVIATOR 300 with Intermediate Gain Antenna (IGA) and the exceptionally compact and lightweight AVIATOR 200 Low Gain Antenna (LGA), which is the first SwiftBroadband 200 system to be fully approved for use aboard a range of leading bizjets having already received STCs for Beechcraft King Air 200, Cessna 500 – 560XL and Citation 525/525A aircraft types.
As the general aviation market in South America continues to grow, Thrane & Thrane is seeking to expand its reach in the region with the appointment of several new partners due to be announced following LABACE.
Beers continues, "To support our growing customer base in Brazil and South America, it is essential that we expand our network of distributors and dealers to ensure dedicated and locally focused service can be provided. The appointment of new partners to further support our existing network will ensure we are well-positioned to respond to increasing customer demand for in-flight connectivity within this significant region."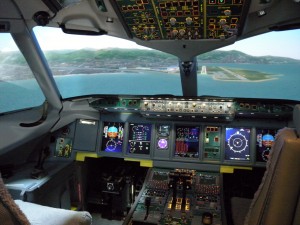 Moscow, August 1st, 2011
The new Full Flight Simulator of SSJ100 aircraft has been put in place in Zhukovsky, Moscow Region, by
the Training Center managed by SuperJet International, the joint venture between Alenia Aeronautica – a
Finmeccanica Company – and Sukhoi Holding.
The FFS is the advanced device produced by French manufacturer Thales, replicating the SSJ100
cockpit and enabling pilots to achieve the SSJ100 Type Rating training without using the real aircraft.
The new FFS "Reality 7" is equipped with LCOS Projectors for the Visual System, Electro-Hydraulic
Motion System and new IOS Station with improved ergonomics.
After an initial period of test, the FFS will reach the approval by Rosavjacia as "Level C" per JAR FSTD.
The training of Russian pilots on the device will start accordingly, within October 2011. The EASA
certification at the same level according to JAR FSTD will follow. At a second stage, the device will be
upgraded to the "level D" which is the maximum level of certification for the FFS according to JAR FSTD
A regulation.
"We are very proud for having reached this challenging milestone" – states Carlo Logli, CEO of SuperJet
International – "This represents a further sign of the great level of cooperation we have managed to
achieve with our partner Sukhoi Civil Aviation Company SCAC. Our joint effort is allowing our Training
Center in Zhukovsky to continue the training of Aeroflot pilots by utilizing this highly technologically
advanced training tool. This is certainly a major improvement for the Sukhoi Superjet 100 program".
"The new SSJ100 FFS is providing the pilots community in Russia with an outstanding opportunity" states
Mr. Vladimir Prisyazhnyuk – President of Sukhoi Civil Aircraft Company – "The utilization of this new
device, in fact, enables pilots which are already certified on Russian commercial aircraft, such as Tu-134,
Tu154 or An-24, to increase their rating without flying the real SSJ100. This means a professional step
ahead performed in a totally safe environment and at cost effective conditions. Russian pilot will take
good advantage of the services rendered by our partner SuperJet International in Zhukovsky".
SJI has established a Training Center made up of two facilities, one in Venice (Italy) and one in Moscow,
(Russian Federation). Both SJI training center locations will be equipped with the same training devices
and tools which permit to provide the high quality training services in compliance with safety regulations.
In 2012 two other SSJ100 FFS will be delivered by Thales: one to be positioned at Aeroflot Training
Center at Sheremetyevo Airport (Moscow) and the other to be installed at the SuperJet International
Training Center in Venice, Italy.
Avidyne joins Aspen, Honeywell, Boeing-Jeppesen and several other key companies that have all committed to building products and applications that will be enabled with the newly-announced Connected Panel™ open architecture.
EAA AirVenture – OSHKOSH – July 27, 2011– Avidyne Corporation, a leading provider of integrated avionics and safety systems for general aviation aircraft, today announced they are collaborating with Aspen Avionics of Albuquerque and a growing to develop new products that are enabled to take advantage of Aspen's new Connected™ Panel technology. The two companies previously announced and are currently developing an interface between Avidyne's DFC90 digital autopilot and Aspen's EFD1000 flight display system.
"Avidyne is pleased to join Aspen and the growing list of Connected Panel™ partner companies who are developing innovative and exciting new products for general aviation pilots," said Dan Schwinn, Avidyne President and CEO.
"Avidyne joins the growing list of certified avionics companies that recognize the value and have committed to building products that will leverage this new, innovative architecture," says John Uczekaj, President and CEO of Aspen Avionics. "We are excited to have them on board."
About Connected Panel™
Connected™ Panel is a new open-platform architecture and technology that is designed to create new and exciting cockpit products that seamlessly integrate aviation application data from personal handheld devices with certified avionics installed in an aircraft's panel.. Avidyne joins other partner companies as announced by Aspen earlier today, including AvConnect, ForeFlight; Honeywell, Jeppesen, JP Instruments, Parrot, Pinnacle Aerospace, PS Engineering, Seattle Avionics, and Sporty's Pilot Shop, as companies that have all committed to collaborate on building products and applications that will be Connected Panel Enabled™.
.