Airbus Helicopters' enhanced version is the first to be fully certified in Brazil
Marignane, 13 March 2014 – The first two upgraded AS365 Panther K2 rotorcraft will be delivered this month by Airbus Helicopters' Helibras subsidiary to the Brazilian Army Aviation Command (AvEx), providing a modernized platform with more power, updated avionics and increased mission capability.
These deliveries follow the signature in Brasília of an amendment standardizing the modifications introduced to the helicopter's enhanced configuration – which will be assessed by AvEx's various battalions during mission operations. Should these evaluations prove favorable, Helibras will continue modernizing the remaining 32 AS365 K Panthers in the Brazilian Army's inventory through 2021.
Helibras' Panther K2 is the first helicopter to be fully certified in Brazil by the country's Aerospace Technology and Science Department (DCTA). It is a landmark achievement for the Itajubá, Brazil-based Helibras, as this particular version has been developed entirely in Brazil.
Featuring state-of-the-art equipment and systems, the Panther K2 upgrade will enable Brazil's AS365s to remain operational for another 25 years. The contract value for modernizing all 34 Panthers in Brazilian Army service is 347 million Brazilian reais.
"The modernization of military aircraft such as the Panther K2 is taking place in fleets with hi-tech assets and a high purchase value, be they fleets of helicopters, airplanes or ships," said Helibras CEO Eduardo Marson, who sees the upgrading of the Panthers as a strategic step forward in his company's expansion program.
"This upgrade effort allows Helibras to gain expertise in the key technologies offered in high-performance aircraft types such as the Dauphin family – on which the Panther military helicopter is based – and opens the way for the development of new projects through the company's engineering center," he added. "The Super Puma and Cougar helicopters are examples of this, and just by introducing a process whereby old parts are replaced by more modern systems, we are able to extend their service life for 25 years at least."
Helibras Manufacturing Vice President Richard Marelli said the company's engineering center was responsible for the Panther K2's preliminary and detailed designs for the enhancement. "As part of the process, a team of engineers and mechanics received on-the-job training at Airbus Helicopters with a view toward specialization in major operations," he continued. "The program also included training for pilots and instructors."
The Panther K2 has been fitted with new Arriel 2C2CG engines that deliver 40 percent more power, new engine fairings, a new glass cockpit with a 4-axis autopilot, new wiring and a cable-cutting device. In addition to night vision goggle-compatibility, the helicopter also features a new altimeter and weather radar, the latest navigation and communication radios and a new tail rotor – significantly improving performance and safety. These changes provide a helicopter with greater range, more speed and reduced pilot workload.
The Panther K2 has capacity for one or two pilots and 10 troops, a maximum takeoff weight of 4,300 kg., and a top speed of 175 kts. – which is increased from 150 kts. prior to its upgrade.
FT. WORTH, TX  (March 4, 2014) – Bell Helicopter, a Textron Inc. company (NYSE: TXT) announced it has received FAA supplemental type certificate (STC) approval for three new accessory options for the Bell 412EPI including a Cockpit Voice Flight Data Recorder (CV/FDR), Bell Helicopter Vibration Monitoring system (BHVM) and Helicopter Terrain Awareness System (HTAWS). All three Bell 412EPI STC-approved products are all available through the Aeronautical Accessories brand.
The CV/FDR is an "on-condition" line-replaceable unit that records both cockpit voice and flight data. The CV/FDR is capable of recording a minimum of 25 hours of flight data and two hours of audio. Flight data is recorded in flash memory and segregated from the cockpit voice data and may be downloaded to ground station equipment in approximately five minutes.
The new BHVM kit for the Bell 412EPI provides comprehensive airframe, rotor, engine and drive system vibration monitoring capability. Additionally, the system provides quick access aircraft data recording capability to support customer flight data monitoring (FDM) programs. The system is compatible with the new Bell 412EPI integrated avionics system.
For forward looking terrain and obstacle avoidance capability, the new Bell 412EPI Helicopter Terrain Awareness and Warning System (HTAWS) kit is now FAA approved and available. This kit has the Honeywell Mark XXII system which presents visual and aural signals to pilots in advance when potential hazards exist. The system is compatible with the new Bell 412EPI integrated avionics system.
"These three new products for the Bell 412EPI demonstrate Bell Helicopter's continued commitment to developing parts and accessories that improve safety and maximize efficiency," said Jennifer Lunceford, manager, Sales for Aeronautical Accessories. "We are pleased to add the newly approved kits to the 'Safety and Mission' section of the 2014 Aeronautical Accessories product catalog."
Multi-Function Display provides growth path to synthetic vision, H-TAWS, and MultiScanTM  weather radar
ANAHEIM, Calif. (Feb. 25, 2014) – The Sikorsky S-92® helicopter will feature new Rockwell Collins MFD-268P2B Multi-Function Displays enabling growth to capabilities that will enhance situational awareness and flight safety. The new displays will be standard cockpit equipment for new aircraft delivered beginning in 2014.
"The new MFD-268P2B Multi-Function Display features the latest technology in advanced cockpit systems," said Troy Brunk, vice president and general manager of Airborne Systems for Rockwell Collins. "The display has been completely redesigned to expand optical and processing performance, reduce acoustic noise levels and increase the level of reliability while providing growth for Next Generation airspace requirements."
Benefits of the new MFD-268P2B include:
Expanded readability under all lighting conditions
Provides growth path to synthetic vision, H-TAWS and MultiScanTM weather radar
Enhanced color stability for high-angle, cross-cockpit viewing
Enhanced reliability through increased technology integration
Greater than 14 decibel reduction in acoustic noise
The MFD-268P2B system offers superior functionality, condensed packaging and is capable of displaying graphics and video on a high performance, color Active Matrix Liquid Crystal Display. This avionics-grade display is capable of a wide operating temperature range, providing superior optical performance designed for a wide viewing angle for excellent cross-cockpit viewing.
About Rockwell Collins
Rockwell Collins is a pioneer in the development and deployment of innovative communication and aviation electronic solutions for both commercial and government applications. Our expertise in flight deck avionics, cabin electronics, mission communications, simulation and training, and information management services is delivered by a global workforce, and a service and support network that crosses more than 150 countries.
Learjet 75 aircraft granted full type certification from FAA on November 14, 2013.
MONTREAL, QUEBEC–(Marketwired – Nov. 15, 2013) – Bombardier Aerospace, the world's leading business aircraft manufacturer, announced that Learjet has been awarded Federal Aviation Administration (FAA) Certification for its Learjet 75 aircraft.
"We are delighted to have received FAA certification for the first Learjet 75 business jet", said Ralph Acs, Vice-President and General Manager, Learjet, Bombardier Business Aircraft. "This jet is clearly a leader among its peers with its Bombardier Vision flight deck offering unmatched capability in its segment, the class-defining performance and efficiency improvements, as well as a completely new interior. This aircraft, along with its smaller sibling the Learjet 70 business jet, clearly have a bright future in business aviation."
FAA certification for Learjet 75 aircraft was received on November 14, 2013. Certification and delivery efforts and activities are in progress for the Learjet 70 aircraft.
Performance
The aircraft has enhanced performance through an engine thrust increase with an improved Honeywell engine, offering improved takeoff field length performance over its predecessor. The new avionic system contributes to achieving weight savings and the new canted winglets improve aerodynamic efficiency. Overall, up to a nine per cent improvement in field performance under hot and high conditions and up to a four per cent improvement in fuel efficiency are expected.(i)
Cabin
Based on the Learjet 85 aircraft interior design and technology, the Learjet 70 and Learjet 75 aircraft include: improved comfort and styling of the seats; cabin management system featuring individual touchscreen monitors with full audio and video control; LED lighting throughout the entire aircraft; a generous baggage suite and a spacious galley for optimized catering, work and storage space. The advanced connectivity options of the Learjet 70 and Learjet 75 aircraft ensures the highest levels of convenience.
Bombardier Vision Flight Deck
A breakthrough in business aviation, the Bombardier Vision Flight Deck is designed to deliver a completely new cockpit experience. By combining the best in technological advancements with superior design aesthetics, it provides pilots flying Bombardier's Learjet 70 and Learjet 75 aircraft an unprecedented level of control and comfort. The Bombardier Vision Flight Deck for Learjet 70 and Learjet 75 aircraft features the fully integrated Garmin G5000 digital avionics suite, designed with leading edge technology and one of the most intuitive crew interfaces available.
Operating Costs
The aircraft will be supported by a maintenance program designed to allow customers to operate to a generous 600 flight hour fixed inspection interval at Bombardier's growing worldwide Customer Services infrastructure. In addition, direct operating costs will be reduced as a result of performance efficiency gains.
Learjet 70 aircraft: The Learjet 70 aircraft will be able to achieve an exceptional range greater than 2,000 nautical miles at cruise speeds of up to Mach 0.81.(i) It will connect Chicago-San Juan and Toluca-Minneapolis non-stop with six passengers and two crew members.(i)
Learjet 75 aircraft: With a maximum range greater than 2,000 nautical miles at cruise speeds up to Mach 0.81, the Learjet 75 aircraft will be able to fly four passengers and two crew members non-stop from Los Angeles to Toronto and Mumbai to Bangkok.(i) Additionally, it will be able to handle a range close to 1,950 nautical miles with eight passengers.(i)
WICHITA, Kan., Oct 31, 2013 – Cessna Aircraft Company, a Textron Inc. (NYSE:TXT) company, recently concluded all high-speed certification flights with the Federal Aviation Administration (FAA) on the new Citation X. This marks the completion of all testing requirements needed to validate the aircraft's unmatched maximum operating speed of Mach 0.935 (617 mph, 536 ktas), solidifying the Citation X's position as the fastest civilian aircraft in the world.
Michael Thacker, Cessna senior vice president of Engineering, said: "The high-speed testing of the new Citation X was a success. All responses from the high-speed certification testing were well within the expected performance envelope. While these are the results our engineers fully anticipated, this final round of testing went so smoothly the conditions were completed in fewer flights and hours than planned."
The high-speed testing regimen includes handling qualities, stability and control in addition to maneuverability conditions at high speeds. The Citation X high-speed validation was accomplished as a result of collaboration with FAA pilots and Cessna's Engineering Flight Test Team during the past weeks. Over 1,300 hours have been flown in the Citation X test program in preparation for certification, expected in the early part of 2014.
Brad Thress, Cessna senior vice president of Business Jets, said: "Our Citation X customers will be glad to know they will own the fastest civilian aircraft in the world. There is no quicker way to get from point A to point B than inside a Citation X."
The Citation X has a range of 3,242 nm, a seating capacity for 9 people, and the cutting edge Garmin G5000 avionics package. Four intuitive, full-color touch-screen LCD control panels and three 14-inch high-resolution displays face the pilots upon entering the updated, ergonomic cockpit. Maximum altitude is 51,000 feet, giving the new Citation X the ability to fly above weather patterns and commercial traffic. Two FADEC-controlled Rolls-Royce AE3007C2 turbo fan engines provide passengers with the fastest way to travel non-stop from New York to London, Dubai to Singapore, or Panama City to Sao Paulo.
Bordes – Moscow / 27 August 2013 – Turbomeca (Safran) and Russian Helicopters (a subsidiary of Oboronprom, part of State Corporation Rostec) today announced that they have signed a Memorandum of Understanding (MoU) on the opening of a new Maintenance Centre.
In the frame of this agreement, Russian Helicopters will provide maintenance Level 1 and 2 activities on Turbomeca engines operated by the Russian helicopter operators. The engines covered are the Arrius 2G1 and the Ardiden 3G, respectively powering the Ka-226T and the Ka-62 helicopters.
This Maintenance Center is part of a global common support strategy aimed at providing a highest level of support to all operators flying with Turbomeca engines in accordance with the best practices and standards.
The new Arrius 2G1 engine with performance in the 700 to 800 shp class, has been tailored to perfectly fit the Ka-226T. This new variant is a derivative engine from the existing Arrius 2, which has proven its durability and reliability worldwide with more than 3000 engines already delivered. To address the requirement of public transport, the Arrius 2G1, among other specific devices, is equipped with a FADEC controlling the power delivery to the helicopter. The engine has been certified in 2011.
Designed for 6 to 8 tonnes helicopters to achieve multiple missions, Ardiden 3 engines offer, under all weather conditions, the most increased performances in the range of the 1,750 to 2,000 shp power engines. The modular design and dual channel FADEC, make the Ardiden 3 highly reliable, with the benefit of low operating costs and an exceptional low fuel consumption (more than 10% less than the others engines in the same range). A contract for over 300 engines has already been signed. Ardiden 3G certification is expected in 2014.
The Ka-226T light multi-purpose helicopter may be operated in urban conditions for high-rise construction works, patrolling, as well as for police operations. Coaxial main rotor system ensures Ka-226T great load capacity and flight height advantages. The Ka-226T is capable of reaching higher altitudes than most other helicopters in its class. Thanks to its maximum climb rate of 10 m/s, low environmental impact and small sound signature, the Ka-226T can operate in various climactic conditions and landscapes, including urban conditions and built-up areas.
Built using new technologies and materials, the new Ka-62 is a single-rotor design, with an enclosed tail rotor and an airframe and propeller blades consisting of over 50% polymeric composite materials. The helicopter will also feature a glass cockpit, a five-blade rotor, secondary hydraulics circuit and energy-efficient wheeled landing gear. The Ka-62 is designed for cargo transportation, medevac and search-and rescue operations, and can also be used in the oil and gas sector and for corporate purposes.
For Immediate Release – August 15, 2013
Toronto, ON –  Vector Aerospace (Vector – www.vectoraerospace.com) and SECA, a Vector Aerospace Company (SECA – www.seca.vectoraerospace.com); leading providers of aviation maintenance, repair and overhaul (MRO) services are pleased to announce the signing of a Service Agreement with TAM EXECUTIVA, based in Sao Paulo, Brazil to perform engine repair, hot section inspections (HSI), testing, modification, overhaul services, and parts distribution on PT6A and JT15D Series Aircraft Gas Turbine Engines and to perform engine repair, Major Periodic Inspection (MPI), testing, modification, Core Zone Inspection (CZI) services, on TFE 731 Series Aircraft Gas Turbine Engines.
"This Service Agreement is important for Vector Aerospace and SECA, as it is an excellent opportunity for us to present our wide range of fixed-wing and helicopter MRO services within the Latin American market," says Jeff Poirier, president of Vector Aerospace Engine Services – Atlantic.  "Our knowledgeable team of Sales and Customer Service specialists look forward to closely working with TAM EXECUTIVA  to provide superior service and support their specific repair, overhaul and fleet maintenance requirements."
Jean-Jacques Reboul, president of SECA (Interim) says, "We look forward to working with TAM EXECUTIVA. It is an excellent opportunity to present our extensive portfolio of services including our GEMS (Global Engine Management Service) program; a combination of support and services aimed at addressing each and every  specific need of TAM EXECUTIVA."
A combined comprehensive service portfolio from Vector Aerospace and SECA includes: Rolls-Royce M250; Rolls-Royce T56/501D; Pratt & Whitney Canada PT6T, PT6A, JT15D, PW100, PW305, PW307 and PW308A series engines;Turbomeca Arriel 1 and Arriel 2; General Electric T58 / CT58 and CT-7A / T700 engines; Honeywell TFE731 and Honeywell ALF 502/LF507 (all engine lines include complete test capability); dynamic components, full-service avionics capability; up to and including glass cockpit engineering, development and integration, complete aircraft rewires, as well as airframes and major inspections support for a variety of Eurocopter, Sikorsky, Boeing and AgustaWestland helicopter models.
Alenia Aermacchi and the Secretariat General of Defence/National Armaments Directorate of the Italian Ministry of Defence have signed an agreement to jointly define the operational specifications and collaborate on the development of a new basic-advanced trainer, the M-345 HET (High Efficiency Trainer) and expected  to enter service between 2017-2020.
The agreement, announced today at the Le Bourget Paris Air Show by the Secretary General of the Ministry of Defence, Gen. Claudio Debertolis and Alenia Aermacchi Chief Executive Officer, Giuseppe Giordo, calls for the immediate creation of a joint working team between the Defence and industry to define the technical specifications of this new aircraft and identify the steps necessary for the preliminary study and its consequent development, taking into account the principles of cost effectiveness and to satisfy the possible requirements of the global market.
The new HET will be a further development of the M-345 jet trainer, the latest solution proposed by Alenia Aermacchi for the basic-advanced phase of military pilot training.
The avionics system of the M-345 HET, through a significant containment of acquisition and operation costs, aims to offer a cheaper and more effective solution in the training of military pilots compared with the current advanced turboprop solutions which, although sharing the same weight class of the M-345 HET and similar on-board equipment, provide only limited performance and training effectiveness.
The M-345 HET will be equipped with a turbofan engine in the 1.600 kg (3,500 lb) thrust class and will offer long endurance and high load factors between +7/-3,5 g. Furthermore, it will feature state-of-the-art avionics, including a HUD (Head Up Display) in the front cockpit and a repeater in the rear cockpit and multi-function digital displays for both pilot stations and HOTAS (Hands On Throttle-And-Stick) controls. The new trainer will be designed to guarantee a training syllabus perfectly aligned with that of the advanced and pre-operative M-346, starting from the elevated similarity between the two cockpits that will allow for the interoperability in joint training missions.
With regards to logistics, operating costs will be reduced due to the fact that the M-345 will be designed with a two-level maintenance concept, eliminating the third and most onerous level of general revision of the aircraft. Easy access to the simple on-board systems and devices and a HUMS (Health and Usage Monitoring System) that provides all information on structure, engine and system for an effective monitoring of the condition of each single component/system, will simplify maintenance. The introduction of the pressure refueling system and of an OBOGS (On-Board Oxygen Generating System) will significantly reduce the quantity of personnel required for aircraft ground operations, thus reducing the interval time between flights and making the M-345 HET even more advantageous under the management profile.
Aircraft and its engines perform excellently
The first A350 XWB to fly has landed back at Toulouse-Blagnac Airport France at
14.05 hours local time after successfully completing its first flight that lasted four hours and five minutes (245 minutes).
The aircraft was flown by Peter Chandler, Airbus' Chief Test Pilot, and Guy Magrin, Project Pilot for the A350 XWB. Accompanying them in the cockpit was Pascal Verneau, the A350 XWB Project Test Flight Engineer. Monitoring the progress of the flight profile were the three flight test engineers: Fernando Alonso, Head of Airbus Flight & Integration Test Centre; Patrick du Ché, Head of Development Flight Tests; and Emanuele Costanzo, lead Flight Test Engineer for the Trent XWB engine.
Airbus President and CEO Fabrice Bregier said: "I congratulate the whole A350 XWB development team for having completed the first flight preparation in a record time. I also wish to thank the first flight crew today for taking this aircraft where it wants to be – in the sky." He added: "I would also like to extend my gratitude to all our teams in the design offices, at programme and manufacturing level, the ground crews as well as our colleagues in airlines and suppliers and many others who helped define this all-new aircraft. The A350 XWB which has flown today, integrating the latest available technologies, is now entering the final stage of its development. And it is ready. Ready to head towards certification and entry-into-service in the second half of next year."
For its first flight, the A350 XWB – carrying the registration F-WXWB – took off at around 221 tonnes. During the flight, which took the aircraft around south western France, the crew explored the aircraft's flight envelope. The aircraft was accompanied by a chase plane to observe and film the various manoeuvres. Its progress was monitored by experts on the ground in real-time via a direct telemetry link. This maiden flight marks the beginning of a rigorous test flight campaign involving five A350s, and around 2,500 flight hours. It will culminate in the aircraft's certification followed by its entry into airline service in the second half of 2014 with first operator Qatar Airways.
The A350 XWB is the all-new mid-size long range product line comprising three versions and seating between 270 and 350 passengers in spacious three-class layouts. The new family will bring a step change in efficiency compared with existing aircraft in this size category, using 25 per cent less fuel and providing an equivalent reduction in CO2 emissions. To date the A350 XWB has already won 613 firm orders from 33 customers worldwide.
GENEVA, SWITZERLAND–(Marketwired – May 20, 2013)
Bombardier Aerospace announced today that it has expanded its leading Challenger family of business jets with the addition of the new Challenger 350 aircraft. The Challenger 350 jet was launched, with worldwide leader in private aviation NetJets(R) as the worldwide launch partner, at a special event at the European Business Aviation Conference and Exhibition (EBACE) in Geneva, Switzerland.
Deliveries of the aircraft are expected to begin in 2014.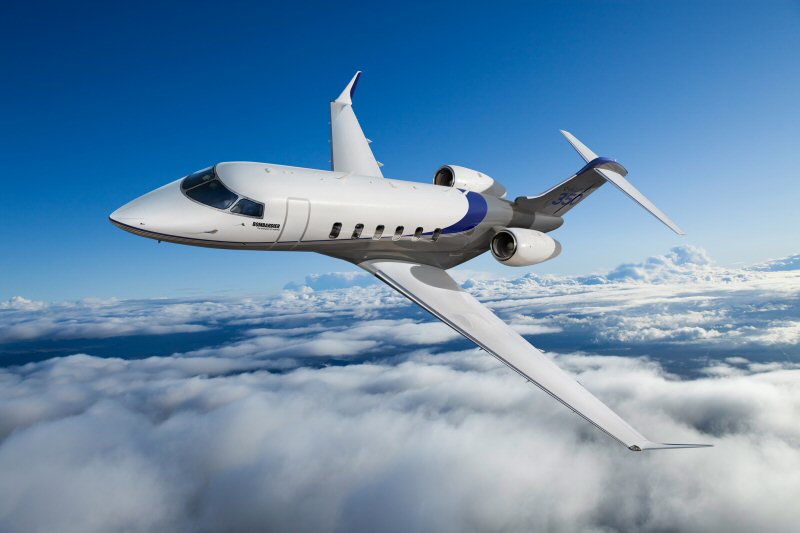 "The Challenger 350 jet will take our existing Challenger family to new heights," said Steve Ridolfi, President, Bombardier Business Aircraft. "This aircraft further enhances our leading business aircraft portfolio and will provide our customers with redefined design standards. Passengers will experience new comfort levels as they relax in the completely new cabin, enjoy a purpose-built and intuitive cabin management system and increase their efficiency with superior performance, and all at best-in-class operating costs. There is simply no substitute for a Challenger jet."
"Designed to meet the ever growing needs of our customers, this new aircraft reflects the feedback received from our existing Challenger customers. Based on our owners and operators' needs, we have taken the world's bestselling super midsize jet and further increased its capability to better meet the growing requirements of our ever expanding Challenger customer base worldwide," added Mr. Ridolfi.
Jordan B. Hansell, NetJets Chairman and Chief-Executive-Officer, said: "We are excited about the addition of our exclusive NetJets Signature Series Challenger 350 aircraft to our fleet and the tremendous value this aircraft will bring to our unmatched global capabilities and most importantly, to our customers. This super midsize aircraft will deliver an experience that meets both our customers' travel and comfort requirements. The inflight experience is exceptional and unlike any other. The aircraft has an exceptionally quiet cabin, allowing both serenity and conversation, soft, hand-crafted leathers, meticulously designed wood finishes, an in-flight entertainment system offering choices for every taste, and a single-service beverage maker, all designed specifically by NetJets."
"The cabin's design was all in an effort to allow our customers to relax and enjoy their flight whether for work or family. This state-of-the-art jet's cabin, designed in partnership with Bombardier Aerospace, will provide our discerning customers the best flight experience, along with the safety and reliability they expect from the worldwide leader in private aviation," added Mr. Hansell.
Performance and Efficiency
The Challenger 350 jet will offer increased performance from the new twin Honeywell HTF7350 engines, each producing 7,323 lbf (32.57 kN) of thrust and reduced emissions(i), increased aerodynamic efficiency with its new canted winglets and will fly eight passengers 3,200 nm (5,926 km)(i). The Challenger 350 jet boasts an impressive direct climb to 43,000 ft (13,106 m)(i).
Comfort
With a flat floor and the widest cabin in its class, the Challenger 350 jet features an entirely new interior, that lets even more natural light into the cabin with larger windows, resulting in a jet that offers passengers state-of-the-art cabin comfort, technology and productivity. Featuring Lufthansa Technik's next generation nice HD cabin management system, the cabin includes a complete redesign of the way passengers control the cabin environment, complemented by contemporary seat design, a new modular galley and the industry's most advanced sideledge featuring an authentic metal trim, a first in business aviation cabin interior design.


Avionics
The Challenger 350 aircraft's cockpit will feature Rockwell Collins Pro Line 21 Advanced. Features of the new avionics include, among others, synthetic vision, dual inertial reference systems, a completely paperless cockpit and Multiscan Weather Radar. The new avionics will provide pilots with increased situational awareness and reduced pilot workload.
Customer Support Network
Challenger 350 aircraft customers will be able to count on a full range of 24/7 support around the world. In preparation for a smooth entry-into-service, Bombardier Aerospace is currently reconfiguring a flight training device and Level D full-flight simulator at its aircraft training centre in Dallas, Texas. Customer Services staff deployed throughout its worldwide network of Service Centres, Parts Depots and Regional Support Offices will also be ready to support upcoming entry-into-service activities including spare parts deployments, as well as updated information on the Customer Information Centre (CIC) website and the SmartFix Plus online troubleshooting tool.