Foi entregue a última aeronave
A Airbus Defence and Space entregou a última das nove aeronaves de combate anti-submarino P-3 Orion (CAS) modernizadas com novos sistemas e aviônicos para a Força Aérea Brasileira (FAB). A aeronave foi transportada de Sevilha, Espanha, para Salvador na Bahia, onde ficará baseada.
As nove aeronaves foram adquiridas pela FAB da Marinha dos EUA em 2006, juntamente com mais três a serem desmontadas para peças de reposição, e foram modernizadas em Sevilha e Getafe, perto de Madrid.
As aeronaves foram equipadas pela a Airbus Defence and Space com o Sistema Tático Totalmente Integrado (Fully Integrated Tactical System – FITS) e uma combinação completamente nova de sensores de missão, sistemas de comunicação e aviônicos de cockpit. Além disso, os motores e estruturas das aeronaves foram modernizados, aumentando a vida útil operacional da frota por muitos anos e proporcionando ao Brasil um recurso altamente moderno e eficaz, adequado para execução de atividades militares e civis, incluindo a função anti-submarino, patrulha marítima, busca e salvamento assim como a aplicação da lei na zona de exclusão econômica.
Sob os termos do contrato, o Brasil está se beneficiando de um amplo pacote de offset, incluindo uma gama de projetos industriais, bem como a formação e pesquisa no setor aeroespacial.
"Este foi um programa grande e complexo, e estamos muito orgulhosos do trabalho feito na modernização da frota brasileira dos P-3. A FAB tem agora uma das frotas mais modernas de sua categoria", disse Antonio Rodríguez Barberán, Chefe Comercial de Military Aircraft na Airbus Defence and Space.
A Airbus Defence and Space modernizou um total de 12 P-3 Orions, nove para a Força Aérea Brasileira e três para a Força Aérea Espanhola.
Final aircraft delivered
Airbus Defence and Space has delivered the last of nine P-3 Orion anti-submarine warfare (ASW) aircraft modernised with new systems and avionics for the Brazilian Air Force (FAB). The aircraft has been ferried from Seville, Spain to Salvador de Bahía, Brazil, where it will be based.
The nine aircraft were acquired by the FAB from the US Navy in 2006, along with three more to be dismantled for spares, and were upgraded at facilities in Seville and Getafe, near Madrid.
In the aircraft Airbus Defence and Space installed its Fully Integrated Tactical System (FITS) and a completely new suite of mission sensors, communications systems and cockpit avionics. In addition, the aircraft engines and structures were updated, extending the fleet´s operational life for many years to come and providing Brazil with a modern and highly effective asset suitable for military and civic duties including anti-submarine, maritime patrol, search and rescue, and economic exclusion zone enforcement.
Under the terms of the contract, Brazil is benefitting from a comprehensive package of offsets including a range of industrial projects as well as training and research in the aerospace sector.
"This has been a large and complex programme and we are very proud of the work done in upgrading the Brazilian P-3 fleet. The FAB now has one of the most modern fleets in its class", said Antonio Rodríguez Barberán, Head of Commercial for Military Aircraft with Airbus Defence and Space.
Airbus Defence and Space has modernised a total of 12 P-3 Orions, nine for the Brazilian Air Force and three for the Spanish Air Force.
Fort Worth, TX (July 21, 2014) – Bell Helicopter, a Textron Inc. company (NYSE: TXT), announced today a signed purchase agreement for the first two Bell 429s configured for Helicopter Emergency Medical Service (HEMS) in the Middle East. The aircraft will be equipped with a fully customized EMS interior and state-of-the-art avionics. The aircraft will be delivered in 2015 and will support medical rescue missions throughout the region.
"We are excited to bring the Bell 429 to the Middle East for HEMS operations," said Steve Suttles, Bell Helicopter's managing director for the Middle East and Africa. "In the past few years, EMS operators throughout the world have seen firsthand that the Bell 429 is the most modern light-twin helicopter available. In fact, of the nearly 200 Bell 429s operating worldwide, nearly 20 percent of them operate HEMS and parapublic missions. In recent years, a range of key global customers, including the Swedish National Police, New York Police Department, Turkish National Police, Air Zermatt and Wiltshire Air Ambulance, have all chosen the Bell 429 as the best solution for their mission needs. We expect to continue to see strong growth as more and more customers see firsthand the amazing capabilities of this machine in action."
The Bell 429 is the only light twin-engine helicopter on the market with true two-litter capability, featuring enough cabin space for two medical attendants and two crew members. The Bell 429 also offers exceptional flight performance with a fully integrated glass cockpit, advanced drive system and best-in-class WAAS navigation and IFR capability. Additional safety features include a collective mounted throttle, damage tolerant hub and rotor system, and energy attenuating seats. It is the first helicopter certified through the MSG-3 process, resulting in reduced maintenance costs for operators. The Bell 429 also features a spacious cabin and extra large 60 inch side doors, as well as Instrument Flight Rules (IFR) capability certified for single or dual pilot operations.
"The advanced situational awareness and performance of the Bell 429 will be key for operators in the region to complete missions in this region as safely and effectively as possible," said David Sale, Middle East regional sales manager for Bell Helicopter. "The total cost of ownership of the Bell 429 provides operators with value not only upon purchase, but also throughout the entire lifecycle of the aircraft. We are looking forward to increasing our HEMS capabilities throughout the Gulf Coast countries in the years to come as we continue to build momentum."
Introducing Premium Worldwide Navigation Data Plus European and Canadian Charts
OLATHE, Kan. /July 17, 2014/Business Wire — Garmin International Inc., a unit of Garmin Ltd. (NASDAQ: GRMN), the global leader in satellite navigation, today announced worldwide coverage of the Garmin Pilot application for iPad and iPhone, which provides flight planning capabilities, comprehensive weather information and full-featured navigation. Pilots also have access to expanded coverage of European charts in a single application, including geo-referenced FliteCharts® and SafeTaxi® airport diagrams. Additionally, new features such as FastFind and Smart Airspace™ offer customers efficient flight planning capabilities, quick waypoint entry and intuitive airspace navigation.
"Flight planning applications in the cockpit continue to grow in popularity and Garmin Pilot incorporates game-changing features like worldwide flight planning, all-inclusive weather coverage and navigation information," said Carl Wolf, vice president of aviation sales and marketing. "Customers around the globe have been asking for a premium, feature-rich application and Garmin has delivered, backed by decades of industry-leading experience in navigation. Garmin Pilot incorporates a familiar user-interface and innovative features so pilots have access to the information they need to make informed decisions."
Flight Planning Capabilities
Garmin Pilot streamlines pre-flight planning, allowing pilots to review weather and flight plan, as well as download and review charts ahead of each flight. Rich, interactive maps integrated within Garmin Pilot offer worldwide coverage using a combination of both Jeppesen and Garmin's navigation data, so flight planning is simple for pilots around the globe. Highly configurable moving maps allow pilots to choose between track-up or north-up orientation. In track-up mode, labels are always upright and easy to read because map information is displayed in the direction of flight. Further customization allows pilots to tailor maps to their personal preferences including map color, visibility range, display of NAVAIDs and more. Unique to Garmin Pilot, a radial menu provides easy on-screen access to create user waypoints, navigate direct-to, graphically edit flight plans, view weather conditions and airport information at a glance.
Global Weather
Weather information including METARs, TAFs, AIRMETs, SIGMETs, NOTAMs and winds aloft may be displayed graphically as an overlay on the moving map page, within the airport information page and as a widget in split-screen mode using an iPad. Text-based weather products may be viewed in split-screen mode and using the NavTrack feature, so pilots can easily see and intuitively understand weather trends along their route. Additionally, radar and satellite imagery for Western Europe, Canada, Australia and the U.S. provide pilots with even more weather products so its easy to determine if precipitation or cloud cover will impact a particular flight.
Feature-Rich Navigation
Garmin Pilot reduces the amount of paper charts needed to complete a flight, offering pilots electronic flight bag capabilities around the globe. Configurable maps give customers the option to customize the display of charts, weather overlays, terrain and obstacles in split screen view, so a variety of information can be displayed simultaneously. Visual Reporting Points (VRPs), commonly found in Europe are overlaid on the moving map page, allowing pilots to easily report their position. Customers also have access to optional geo-referenced European FliteCharts (terminal procedures) for select countries. Garmin Pilot optionally supports European VFR and IFR charts with VFR data sourced directly from Deutsche Flugsicherung (DFS) and IFR charts from Eurocontrol. Pilots may easily navigate unfamiliar airports with SafeTaxi, which conveniently displays geo-referenced airport diagrams throughout portions of Europe, directly on the moving map. FliteCharts and SafeTaxi coverage is further extended into Canada and includes approaches, departures and arrival procedures. Global terrain, as well as U.S. and Europe obstacle alerting available within Garmin Pilot, offers an enhanced level of situational awareness in even the most challenging terrain environments.
Similar to features found within Garmin avionics, Smart Airspace is available within Garmin Pilot, so it is easy to identify what airspace lies ahead. Smart Airspace conveniently highlights the airspace nearest the aircraft's current altitude and de-emphasizes non-pertinent airspace so pilots can quickly identify their location relative to the airspace around them. Additionally, the altitude filter removes airspace above the user-defined altitude. As customers enter flight plan information, FastFind incorporates predictive logic to suggest airports and waypoints using current GPS location so entering flight plan information is faster and easier. Quick flight plan entry is possible with FastFind, which automatically begins searching for the nearest identifier as an airport or waypoint is entered within the flight plan.
Garmin Pilot incorporates sophisticated graphics modeling to create a virtual topographic landscape to create 3D Vision, offering a clear 3D depiction of ground, water, terrain features and more. 3D Vision is transformed when paired with the GDL 39 3D portable ADS-B datalink receiver, which superimposes back-up aircraft attitude information on top of the Garmin synthetic vision (SVX™) display. Outside of the U.S., the GDL 39 3D offers industry-leading GPS, attitude information and air-to-air ADS-B traffic, providing pilots with even more information in the cockpit. Aircraft attitude information is also available on the aircraft panel page, which displays back-up attitude, GPS-derived altitude and airspeed, as well as HSI course guidance.
Garmin Pilot 6.2 is available immediately as a free update, providing existing customers access to Smart Airspace, FastFind and optional worldwide coverage. For new customers, Garmin Pilot is available in the Apple App Store as a free download for the first 30 days. After the 30-day trial period, customers may purchase an annual subscription of Garmin Pilot featuring worldwide coverage starting at $199.99. Pilots may purchase optional FliteCharts, SafeTaxi, DFS and IFR charts starting at $49.99. Garmin Pilot Canada Premium includes Garmin FliteCharts and SafeTaxi diagrams for Canada, text-based weather products, as well as radar and satellite imagery for the U.S. and Canada and is expected to become available in August for $149.99. Visit the Apple App store to download Garmin Pilot and visit www.garmin.com/aviation for additional information.
Garmin's aviation business segment is a leading provider of solutions to OEM, aftermarket, military and government customers. Garmin's portfolio includes navigation, communication, flight control, hazard avoidance, surveillance, and other products and services that are known for innovation, reliability, and value.
Israel Aerospace Industries (IAI) reveals its innovative Helicopter safety technology, which enables helicopter flight in Degraded Visual Environments (DVE), under all weather conditions.
Today's helicopter military and paramilitary operational missions typically involve flight over environments with a variety of ground obstacles. Such missions are often hampered by a combination of low-altitude obstacles and poor visibility, which may result in accidents and causalities. IAI's technology was developed to provide a safe and affordable solution to such operational requirements.
The system features innovative staring radar, advanced processing algorithms and cockpit multi-functional display integration. The technology allows for low-altitude flight under all weather conditions or lighting and visibility, and for safe landing in brown-out conditions by alerting the pilot of electrical power lines and other ground obstacles.
The system generates a synthetic image of the terrain, highlighting flight obstacles such as power lines and their supporting poles or towers. The system achieves a very high probability of 95% for detection of power lines, comprises two compact 30 x 40 cm antennas, requires only 250 W of power, and weighs 30 kg. The system has successfully undergone flight tests and is available for performing real-time demonstration flights.
Yosef Melamed, General Manager of IAI's LAHAV Division said: "IAI's new helicopter safety technology is life-saving. It presents a unique business opportunity with potential markets worldwide. We are examining the possibilities for further development and marketing of the product, including cooperation with strategic partners."
In the picture: Helicopter during landing in Degraded Visual Environment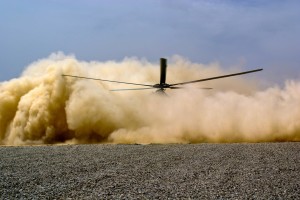 FARNBOROUGH, U.K., July 13, 2014 – Following closely behind its recent FAA certification, the Cessna Citation X+, the world's fastest business jet, completed its first trans-Atlantic crossing in a normal business flight profile in 5 hours, 33 minutes for an average ground speed of 502 knots. Cessna is a subsidiary of Textron Aviation, a Textron Inc. (NYSE: TXT) company.
"We filed a fairly standard flight plan to demonstrate the capability a customer can expect in normal operations, and it was very impressive," said Kriya Shortt, senior vice president, Sales and Marketing for Textron Aviation. "While the operator will realize a huge benefit from the Citation X+ during shorter cross-country flights, long flights like this is where it really shines."
The Citation X+ flew from the Cessna factory in Wichita, KS to Presque Isle, Maine, then 2,788 nautical miles non-stop to Cessna's facility at Paris Le Bourget for an event. The Citation X+ then completed its journey at TAG Farnborough Airport. For the trans-Atlantic leg, the aircraft made a direct climb to 45,000 feet, accelerating to an initial cruise speed of .86 Mach, then to .88 Mach for much of the flight to Paris.
"Just as impressive as the speed of the aircraft – and the time saved – is the large cabin, the comfort, and the smart cabin technology that really make this the jet for business," Shortt said.
The new Citation X+ has seating for up to 12 passengers, a maximum altitude of 51,000 feet, an unmatched maximum speed of Mach 0.935 (617 mph, 536 ktas) and an increased max range of 3,408 nautical miles.
The most distinct outward difference with the evolved Citation X+ is the addition of winglets, allowing the aircraft to cruise efficiently at higher altitudes and to consume less fuel, as well as improving takeoff and landing performance at higher elevations or on hot days. Powered by two FADEC-controlled Rolls-Royce AE3007C2 turbofan engines, the Citation X+ can fly above commercial traffic and some adverse weather at a maximum altitude of 51,000 feet.
The cockpit of the Citation X+ features ergonomic seats designed for transcontinental flights, and a dual-zone temperature control system keeps pilots and passengers comfortable. The flight deck is centered on the Garmin G5000 avionics package with four intuitive, full-color touch-screen LCD control panels and three 14-inch high-resolution displays, as well as fully integrated auto throttles to reduce pilot workload. Standard Garmin Synthetic Vision Technology on the primary flight displays gives the crew a virtual reality view of runways, terrain, traffic and obstacles.
"The pilots were thrilled by the ease of fuel management with the fully integrated autothrottle system used throughout the mission," Shortt said. "Combined with improved aerodynamics and the addition of winglets, the Citation X+ autothrottle is the key to getting the most efficient use of fuel given the prevailing environmental conditions, and that means you save money."
Autothrottle is integrated with the Flight Management System and Automatic Flight Control System for computer control of engine thrust, set to maximize either thrust or speed. The system can be engaged prior to takeoff roll to control fuel flow throughout a flight, from takeoff to touchdown, or disengaged for manual throttle operation.
"Under the normal flight profile we flew, air traffic control requires a constant air speed during the crossing and without autothrottle, the pilots must constantly adjust the throttle to maintain that air speed," Shortt said. "With autothrottle, they set the desired speed and the airplane does the rest, greatly reducing pilot workload."
The lengthier cabin is built around a proprietary intelligent cabin management and entertainment technology solution integrated with the aircraft's avionics and electrical systems. Cessna's ClairityTM provides passengers individual touch screens to control cabin lighting, window shades, temperature, and audio and video entertainment (digital media, MP3/iPhone, Blu-Ray). The interior of each new Citation X+ can be tailor-made to the customer's specifications in seating layout, color choices and entertainment options that can include global, satellite Wifi connectivity.
Integrates Seamlessly with Garmin G1000H Avionics
Farnborough, England (July 15, 2014) – Bell Helicopter, a Textron Inc. company (NYSE: TXT), has announced a new autopilot kit designed specifically to integrate with the Garmin G1000H avionics suite in the Bell 407GX. The option is currently available as a kit for the Bell 407GX in the U.S. and Canadian markets directly through Bell Helicopter and has been certified by the Federal Aviation Administration (FAA) and Transport Canada Civil Aviation (TCCA) for VFR (visual flight rule) operations. It features two-axis functionality with cyclic force trim and a Stability and Command Augmentation System (SCAS) available at all speeds with altitude and heading preselects. It can also be commanded to maintain either heading and altitude or navigation course and altitude. Additionally, a Go-Around mode can be activated by a single switch to provide automatic attitude leveling and transition to climb.
"The autopilot option is a logical extension of the fully-integrated glass cockpit offered in the Bell 407GX," said Danny Maldonado, Bell Helicopter's executive vice president of commercial sales and marketing. "We wanted to provide a product that is not only compatible with the Garmin system, but also make sure that operators could easily integrate and continue to get the best safety, performance and reliability out of their aircraft."
The autopilot system, which is derived from the Bell 429 digital automatic flight control system, integrates with the Garmin G-1000H's navigation modes and display and also integrates audio for caution alerts and mode annunciations. It is also compatible with a night vision imaging system (NVIS) and automatically disengages during heavy turbulence or extreme flight altitudes.
FARNBOROUGH INTERNATIONAL AIR SHOW, ENGLAND (July 15, 2014) – Bell Helicopter and TRU Simulation + Training (TRU), both Textron Inc. companies,  (NYSE: TXT), announced an agreement for TRU to complete the design, development, manufacturing, installation, testing and certification of the Bell 525 Level D Full Flight Simulator (FFS).
The FFS will be certified to FAA Level D, as well as EASA/JAA Level D.  TRU will employ its ODYSSEY™ H FFS simulator product, which utilizes TRU's state-of-the-art Ultra High Definition Visual System with 240 degree horizontal by 80 degree vertical field of view Visual Display, in the design and development of the Bell 525 FFS.  The ODYSSEY H is capable of meeting EASA and FAA Level D helicopter certifications. The simulator is designed especially for the unique training requirements and needs of the helicopter pilot.
"Our company includes service as a trusted high fidelity rotorcraft simulation and training partner to the military for more than two decades," explained TRU Simulation + Training President and CEO Jim Takats. "It's exciting for our team to apply that expertise to the civil market by meeting the training needs of operators of this game-changing Bell Helicopter platform."
TRU will use the Bell 525 design and components to develop and deliver a flight compartment which is an exact duplicate of the Bell 525 cockpit, forward of the anti-torque pedals to aft of the pilots' seats. All controls, panels, instruments, avionics, equipment and furnishings will be identical in appearance, feel, location and operation to those of the actual aircraft. It will respond exactly like the aircraft in all flight conditions, as well as accurately simulate instrument readings and malfunctions and enable them to be addressed through normal and emergency procedures.
"We are pleased to be collaborating with TRU in the development and production of the Bell 525 FFS," said Eric Cardinali, executive vice president, Bell Helicopter Customer Support and Services. "Their expertise in aviation simulation and training solutions is a perfect complement to Bell Helicopter's own industry-leading training capabilities."
The simulator will be built at TRU's facility in Tampa, Fla., and is expected to be fully operational in Q1 2016, to coincide with the certification timeline for the actual aircraft.
"We have kept the customer in mind throughout the FFS development process," continued Cardinali. "The timing of the simulator installation and certification is such that operators can enroll in training and be certified to fly the aircraft by the time they take delivery."
TRU Simulation + Training was formed in April out of three legacy companies – Mechtronix Inc. and OPINICUS Corporation that were acquired by Textron late last year, and a portion of the former AAI Logistics & Technical Services.
INAER France to operate Bell 429 in EMS Configuration
Farnborough, England (July 14, 2014) – Bell Helicopter, a Textron Inc. company (NYSE: TXT), announced today a signed purchase agreement with INAER France an Avincis Group operator for a Bell 429 in Helicopter Emergency Medical Service (HEMS) configuration. The aircraft, the first Bell 429 sold in France, will be equipped with a fully customized EMS interior and state-of-the-art avionics. INAER will take delivery of the aircraft in 2014, which will support medical rescue missions in the West region of France.
"Medical missions are very demanding and require modern aircraft and the highest standards of safety," said Martin Whittaker, Director of Fleet & Engineering at Avincis. "The Bell 429's advanced technology and performance will allow us to provide safe and rapid transport to those most in need of care."
"We are thrilled to introduce the Bell 429 to France with long-time customer INAER," said Patrick Moulay, Bell Helicopter's managing director for Europe. "The Bell 429 is the most modern light-twin helicopter available and as customers have realized the full capabilities of this amazing aircraft, our installed base in Europe has grown to more than 40 Bell 429s. It continues to gain popularity with HEMS and parapublic operators across the region."
INAER France is a leader in HEMS rescue, with almost 20 years of operating aerial surveillance assistance and parapublic missions. In addition, INEAR France provides aircraft maintenance and pilot type ratings.
The Bell 429 is the only light twin-engine helicopter on the market with true two-litter capability, featuring enough cabin space for two medical attendants and two crew members. The Bell 429 also offers exceptional flight performance with a fully integrated glass cockpit, advanced drive system and best-in-class WAAS navigation and IFR capability. Additional safety features include a collective mounted throttle, damage tolerant hub and rotor system, and energy attenuating seats. It is the first helicopter certified through the MSG-3 process, resulting in reduced maintenance costs for operators. The Bell 429 also features a spacious cabin and extra large 60 inch side doors, as well as Instrument Flight Rules (IFR) capability certified for single or dual pilot operations.
News Release
Media Contacts:
Nicole Alexander                       Stephanie Harder
+1.316.676.3212                       +1.316.517.8702
nalexander@txtav.com             sharder@txtav.com
textronaviation.com
Citation Sovereign+ business jet receives EASA certification
WICHITA, Kan., June 10, 2014 – Cessna Aircraft Company, a subsidiary of Textron Aviation Inc., a Textron Inc. company (NYSE:TXT), today announced the completion of European Aviation Safety Agency (EASA) certification of Cessna's Citation Sovereign+ business jet. The Citation Sovereign+ features enhanced climb performance and range, along with Garmin's G5000 avionics. The aircraft recently completed a successful demonstration tour in Europe, where it debuted last month at the 2014 European Business Aviation Convention & Exhibition (EBACE) in Switzerland.
"The Citation Sovereign+ is a great fit for the European market with its non-stop range between London and the United States or the Middle East, and all European city pairs," said Chris Hearne, vice president, Jets. "We have a number of European customers ready to take delivery of their aircraft, and with EASA certification we can now get the Sovereign+ into the marketplace. Customers are responding positively to the new Garmin avionics and the many other interior and exterior features that allow this aircraft to fly farther, smarter and more comfortably than before."
Featuring winglets and the new Pratt & Whitney Canada PW306D engines providing 5907 pounds of thrust, the Citation Sovereign+ has a range of 3,188 nautical miles (5,904 km), a top speed of 460 knots (529 miles per hour) and a direct climb to 45,000 feet.
The new cockpit in the Sovereign+ is designed around the Cessna Intrinzic Flight Deck powered by Garmin G5000 avionics. An integrated, workload-reducing auto throttle system streamlines the pilots' tasks. With Cessna's Clairity cabin management system and redesigned interior options, the Sovereign+ features the longest and most comfortable cabin in its class with a max seating configuration for up to 12 passengers. The Clairity system allows passengers to remain connected in-flight through the integration of smartphones and tablets, along with an airborne Internet system.