Israel Aerospace Industries (IAI) reveals its innovative Helicopter safety technology, which enables helicopter flight in Degraded Visual Environments (DVE), under all weather conditions.
Today's helicopter military and paramilitary operational missions typically involve flight over environments with a variety of ground obstacles. Such missions are often hampered by a combination of low-altitude obstacles and poor visibility, which may result in accidents and causalities. IAI's technology was developed to provide a safe and affordable solution to such operational requirements.
The system features innovative staring radar, advanced processing algorithms and cockpit multi-functional display integration. The technology allows for low-altitude flight under all weather conditions or lighting and visibility, and for safe landing in brown-out conditions by alerting the pilot of electrical power lines and other ground obstacles.
The system generates a synthetic image of the terrain, highlighting flight obstacles such as power lines and their supporting poles or towers. The system achieves a very high probability of 95% for detection of power lines, comprises two compact 30 x 40 cm antennas, requires only 250 W of power, and weighs 30 kg. The system has successfully undergone flight tests and is available for performing real-time demonstration flights.
Yosef Melamed, General Manager of IAI's LAHAV Division said: "IAI's new helicopter safety technology is life-saving. It presents a unique business opportunity with potential markets worldwide. We are examining the possibilities for further development and marketing of the product, including cooperation with strategic partners."
In the picture: Helicopter during landing in Degraded Visual Environment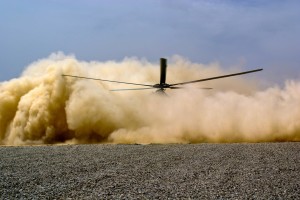 FARNBOROUGH, U.K., July 13, 2014 – Following closely behind its recent FAA certification, the Cessna Citation X+, the world's fastest business jet, completed its first trans-Atlantic crossing in a normal business flight profile in 5 hours, 33 minutes for an average ground speed of 502 knots. Cessna is a subsidiary of Textron Aviation, a Textron Inc. (NYSE: TXT) company.
"We filed a fairly standard flight plan to demonstrate the capability a customer can expect in normal operations, and it was very impressive," said Kriya Shortt, senior vice president, Sales and Marketing for Textron Aviation. "While the operator will realize a huge benefit from the Citation X+ during shorter cross-country flights, long flights like this is where it really shines."
The Citation X+ flew from the Cessna factory in Wichita, KS to Presque Isle, Maine, then 2,788 nautical miles non-stop to Cessna's facility at Paris Le Bourget for an event. The Citation X+ then completed its journey at TAG Farnborough Airport. For the trans-Atlantic leg, the aircraft made a direct climb to 45,000 feet, accelerating to an initial cruise speed of .86 Mach, then to .88 Mach for much of the flight to Paris.
"Just as impressive as the speed of the aircraft – and the time saved – is the large cabin, the comfort, and the smart cabin technology that really make this the jet for business," Shortt said.
The new Citation X+ has seating for up to 12 passengers, a maximum altitude of 51,000 feet, an unmatched maximum speed of Mach 0.935 (617 mph, 536 ktas) and an increased max range of 3,408 nautical miles.
The most distinct outward difference with the evolved Citation X+ is the addition of winglets, allowing the aircraft to cruise efficiently at higher altitudes and to consume less fuel, as well as improving takeoff and landing performance at higher elevations or on hot days. Powered by two FADEC-controlled Rolls-Royce AE3007C2 turbofan engines, the Citation X+ can fly above commercial traffic and some adverse weather at a maximum altitude of 51,000 feet.
The cockpit of the Citation X+ features ergonomic seats designed for transcontinental flights, and a dual-zone temperature control system keeps pilots and passengers comfortable. The flight deck is centered on the Garmin G5000 avionics package with four intuitive, full-color touch-screen LCD control panels and three 14-inch high-resolution displays, as well as fully integrated auto throttles to reduce pilot workload. Standard Garmin Synthetic Vision Technology on the primary flight displays gives the crew a virtual reality view of runways, terrain, traffic and obstacles.
"The pilots were thrilled by the ease of fuel management with the fully integrated autothrottle system used throughout the mission," Shortt said. "Combined with improved aerodynamics and the addition of winglets, the Citation X+ autothrottle is the key to getting the most efficient use of fuel given the prevailing environmental conditions, and that means you save money."
Autothrottle is integrated with the Flight Management System and Automatic Flight Control System for computer control of engine thrust, set to maximize either thrust or speed. The system can be engaged prior to takeoff roll to control fuel flow throughout a flight, from takeoff to touchdown, or disengaged for manual throttle operation.
"Under the normal flight profile we flew, air traffic control requires a constant air speed during the crossing and without autothrottle, the pilots must constantly adjust the throttle to maintain that air speed," Shortt said. "With autothrottle, they set the desired speed and the airplane does the rest, greatly reducing pilot workload."
The lengthier cabin is built around a proprietary intelligent cabin management and entertainment technology solution integrated with the aircraft's avionics and electrical systems. Cessna's ClairityTM provides passengers individual touch screens to control cabin lighting, window shades, temperature, and audio and video entertainment (digital media, MP3/iPhone, Blu-Ray). The interior of each new Citation X+ can be tailor-made to the customer's specifications in seating layout, color choices and entertainment options that can include global, satellite Wifi connectivity.
Integrates Seamlessly with Garmin G1000H Avionics
Farnborough, England (July 15, 2014) – Bell Helicopter, a Textron Inc. company (NYSE: TXT), has announced a new autopilot kit designed specifically to integrate with the Garmin G1000H avionics suite in the Bell 407GX. The option is currently available as a kit for the Bell 407GX in the U.S. and Canadian markets directly through Bell Helicopter and has been certified by the Federal Aviation Administration (FAA) and Transport Canada Civil Aviation (TCCA) for VFR (visual flight rule) operations. It features two-axis functionality with cyclic force trim and a Stability and Command Augmentation System (SCAS) available at all speeds with altitude and heading preselects. It can also be commanded to maintain either heading and altitude or navigation course and altitude. Additionally, a Go-Around mode can be activated by a single switch to provide automatic attitude leveling and transition to climb.
"The autopilot option is a logical extension of the fully-integrated glass cockpit offered in the Bell 407GX," said Danny Maldonado, Bell Helicopter's executive vice president of commercial sales and marketing. "We wanted to provide a product that is not only compatible with the Garmin system, but also make sure that operators could easily integrate and continue to get the best safety, performance and reliability out of their aircraft."
The autopilot system, which is derived from the Bell 429 digital automatic flight control system, integrates with the Garmin G-1000H's navigation modes and display and also integrates audio for caution alerts and mode annunciations. It is also compatible with a night vision imaging system (NVIS) and automatically disengages during heavy turbulence or extreme flight altitudes.
FARNBOROUGH INTERNATIONAL AIR SHOW, ENGLAND (July 15, 2014) – Bell Helicopter and TRU Simulation + Training (TRU), both Textron Inc. companies,  (NYSE: TXT), announced an agreement for TRU to complete the design, development, manufacturing, installation, testing and certification of the Bell 525 Level D Full Flight Simulator (FFS).
The FFS will be certified to FAA Level D, as well as EASA/JAA Level D.  TRU will employ its ODYSSEY™ H FFS simulator product, which utilizes TRU's state-of-the-art Ultra High Definition Visual System with 240 degree horizontal by 80 degree vertical field of view Visual Display, in the design and development of the Bell 525 FFS.  The ODYSSEY H is capable of meeting EASA and FAA Level D helicopter certifications. The simulator is designed especially for the unique training requirements and needs of the helicopter pilot.
"Our company includes service as a trusted high fidelity rotorcraft simulation and training partner to the military for more than two decades," explained TRU Simulation + Training President and CEO Jim Takats. "It's exciting for our team to apply that expertise to the civil market by meeting the training needs of operators of this game-changing Bell Helicopter platform."
TRU will use the Bell 525 design and components to develop and deliver a flight compartment which is an exact duplicate of the Bell 525 cockpit, forward of the anti-torque pedals to aft of the pilots' seats. All controls, panels, instruments, avionics, equipment and furnishings will be identical in appearance, feel, location and operation to those of the actual aircraft. It will respond exactly like the aircraft in all flight conditions, as well as accurately simulate instrument readings and malfunctions and enable them to be addressed through normal and emergency procedures.
"We are pleased to be collaborating with TRU in the development and production of the Bell 525 FFS," said Eric Cardinali, executive vice president, Bell Helicopter Customer Support and Services. "Their expertise in aviation simulation and training solutions is a perfect complement to Bell Helicopter's own industry-leading training capabilities."
The simulator will be built at TRU's facility in Tampa, Fla., and is expected to be fully operational in Q1 2016, to coincide with the certification timeline for the actual aircraft.
"We have kept the customer in mind throughout the FFS development process," continued Cardinali. "The timing of the simulator installation and certification is such that operators can enroll in training and be certified to fly the aircraft by the time they take delivery."
TRU Simulation + Training was formed in April out of three legacy companies – Mechtronix Inc. and OPINICUS Corporation that were acquired by Textron late last year, and a portion of the former AAI Logistics & Technical Services.
INAER France to operate Bell 429 in EMS Configuration
Farnborough, England (July 14, 2014) – Bell Helicopter, a Textron Inc. company (NYSE: TXT), announced today a signed purchase agreement with INAER France an Avincis Group operator for a Bell 429 in Helicopter Emergency Medical Service (HEMS) configuration. The aircraft, the first Bell 429 sold in France, will be equipped with a fully customized EMS interior and state-of-the-art avionics. INAER will take delivery of the aircraft in 2014, which will support medical rescue missions in the West region of France.
"Medical missions are very demanding and require modern aircraft and the highest standards of safety," said Martin Whittaker, Director of Fleet & Engineering at Avincis. "The Bell 429's advanced technology and performance will allow us to provide safe and rapid transport to those most in need of care."
"We are thrilled to introduce the Bell 429 to France with long-time customer INAER," said Patrick Moulay, Bell Helicopter's managing director for Europe. "The Bell 429 is the most modern light-twin helicopter available and as customers have realized the full capabilities of this amazing aircraft, our installed base in Europe has grown to more than 40 Bell 429s. It continues to gain popularity with HEMS and parapublic operators across the region."
INAER France is a leader in HEMS rescue, with almost 20 years of operating aerial surveillance assistance and parapublic missions. In addition, INEAR France provides aircraft maintenance and pilot type ratings.
The Bell 429 is the only light twin-engine helicopter on the market with true two-litter capability, featuring enough cabin space for two medical attendants and two crew members. The Bell 429 also offers exceptional flight performance with a fully integrated glass cockpit, advanced drive system and best-in-class WAAS navigation and IFR capability. Additional safety features include a collective mounted throttle, damage tolerant hub and rotor system, and energy attenuating seats. It is the first helicopter certified through the MSG-3 process, resulting in reduced maintenance costs for operators. The Bell 429 also features a spacious cabin and extra large 60 inch side doors, as well as Instrument Flight Rules (IFR) capability certified for single or dual pilot operations.
News Release
Media Contacts:
Nicole Alexander                       Stephanie Harder
+1.316.676.3212                       +1.316.517.8702
nalexander@txtav.com             sharder@txtav.com
textronaviation.com
Citation Sovereign+ business jet receives EASA certification
WICHITA, Kan., June 10, 2014 – Cessna Aircraft Company, a subsidiary of Textron Aviation Inc., a Textron Inc. company (NYSE:TXT), today announced the completion of European Aviation Safety Agency (EASA) certification of Cessna's Citation Sovereign+ business jet. The Citation Sovereign+ features enhanced climb performance and range, along with Garmin's G5000 avionics. The aircraft recently completed a successful demonstration tour in Europe, where it debuted last month at the 2014 European Business Aviation Convention & Exhibition (EBACE) in Switzerland.
"The Citation Sovereign+ is a great fit for the European market with its non-stop range between London and the United States or the Middle East, and all European city pairs," said Chris Hearne, vice president, Jets. "We have a number of European customers ready to take delivery of their aircraft, and with EASA certification we can now get the Sovereign+ into the marketplace. Customers are responding positively to the new Garmin avionics and the many other interior and exterior features that allow this aircraft to fly farther, smarter and more comfortably than before."
Featuring winglets and the new Pratt & Whitney Canada PW306D engines providing 5907 pounds of thrust, the Citation Sovereign+ has a range of 3,188 nautical miles (5,904 km), a top speed of 460 knots (529 miles per hour) and a direct climb to 45,000 feet.
The new cockpit in the Sovereign+ is designed around the Cessna Intrinzic Flight Deck powered by Garmin G5000 avionics. An integrated, workload-reducing auto throttle system streamlines the pilots' tasks. With Cessna's Clairity cabin management system and redesigned interior options, the Sovereign+ features the longest and most comfortable cabin in its class with a max seating configuration for up to 12 passengers. The Clairity system allows passengers to remain connected in-flight through the integration of smartphones and tablets, along with an airborne Internet system.
GENEVA, SWITZERLAND (May 19, 2014) – Bell Helicopter, a Textron Inc. company (NYSE: TXT), has announced its plans for the 14th annual European Business Aviation Convention and Exhibition, EBACE, in Geneva, Switzerland, held May 20 to May 22.  The Company will showcase its latest commercial product offerings including the Bell 505 Jet Ranger X™ aircraft mockup and Macaer's new VVIP Bell 429 cabin mock up. In addition, a customer-owned Bell 429 aircraft in corporate configuration will be on display.
"EBACE is a great opportunity to expand our presence in Europe and connect with our customers," said Patrick Moulay, Bell Helicopter's managing director in Europe. "We have been working with our customers to advance and modernize our commercial product line. The Bell 505 Jet Ranger X on display is designed to specifications our customers told us are most important at a competitive price."
The Bell 505 Jet Ranger X is a customer-driven design, blending proven systems with advanced technology and a sleek, modern design. The Bell 505 places safety, performance and affordability at its forefront. The Garmin G1000H Integrated Avionics Suite provides pilots critical flight information at a glance to maximize situational awareness. Pilot workload is further reduced by the Turbomeca Arrius 2R engine with dual channel Full Authority Digital Engine Control (FADEC). The Bell 505 features a high inertia rotor system delivering superior auto rotation capabilities. With the ideal combination of speed, range and useful load, the Jet Ranger X is designed to deliver best-in-class performance.
The Bell 429 also offers exceptional flight performance with a fully integrated glass cockpit, advanced drive system and best-in-class WAAS navigation and IFR capability. Additional safety features include a collective mounted throttle, damage tolerant hub and rotor system, and energy attenuating seats. It is the first helicopter certified through the MSG-3 process, resulting in reduced maintenance costs for operators. Passengers will take advantage of the Bell 429'spacious cabin and extra large 60 inch side doors, as well as Instrument Flight Rules (IFR) capability certified for single or dual pilot operations to better fulfill their mission.
Macaer Aviation Group has created a state-of-the-art VVIP interior for the Bell 429 that can be customized to accommodate a range of customer desires. With a variety of seating configurations possible, operators can match their own individual taste. Macaer's specialty custom interior incorporates a noise abatement system called SILENS™, and an In-Flight Entertainment Enhanced Lounge (I-FEEL), that provides a fully customized interactive touch screen based entertainment management system.
Bell Helicopter remains focused on providing world-class support and service to its European customer base. Currently, Bell has 15 independent representatives and distributors in region and continues to grow. The company's focus on its customers is a key differentiator from the competition, as evidenced by Bell Helicopter's consistent number one ranking in Pro Pilot's service and support rankings for the 20th consecutive year.
Fort Lauderdale, FL – Banyan Air Service based at Fort Lauderdale Executive Airport recently completed the installation of a Dual Garmin 600 Glass Cockpit Upgrade on a Pilatus PC-12.  The project also included a Garmin GTN-750, GTN-650, GMA-350, and Dual GTX-330 transponders.  The installations were performed utilizing both Garmin and Pilatus STCs.
The Garmin dual G600 upgrade from Pilatus has provided one of the best Glass Cockpit modernization paths for the legacy Pilatus PC-12 aircraft on the market today. "By incorporating Synthetic Vision (SVT), radar display on the MFD, TAWS-B, and angle of attack display – Banyan has provided this operator with a fresh, new, and modern look for the aircraft," says Paul Rose, Banyan vice president of technical sales.
The GTN series includes new "touch" technology providing a whole new level of efficiency and safety for the cockpit. This upgrade brings full LPV approach capability to the cockpit at the touch of a finger.
Banyan also added dual fully "ADS-B out" compliant GTX-330(ES) transponders. This Pilatus is now equipped to meet the challenging demands of ADS-B and other future mandates.
The addition of the digital 3-D audio panel (GMA-350) which when interfaced with the Garmin GTN-750 provides 3-D audio.  This is the clearest audio anywhere, and includes superb audio isolation and "talk Command" capability.
"When the customer requested options for a modern and more technologically advanced cockpit, both Banyan and Garmin delivered," says Rose.
WICHITA, Kan., March 25, 2014 — Beechcraft Corporation, part of the Textron Aviation segment of Textron Inc. (NYSE:TXT), announced today it has received an initial order from the Mexican Navy Secretaría de Marina (SEMAR) for two T-6C+ military trainers. This purchase represents the first step in modernizing the Mexican Navy's fixed-wing aviation fleet and follows a recent expansion of the Mexican Air Force training fleet to include 12 T-6C+ aircraft. The Navy trainers are scheduled for delivery in the summer of 2014.
In addition to the aircraft, Beechcraft's Global Mission Support organization is working on a second contract with SEMAR that is expected to include two years of parts support, training for pilots and mechanics, and the placement of Field Service Representatives who will provide technical expertise and training to maintenance personnel.
"We are pleased to expand the reach of the T-6C+ to a second military fleet customer in Mexico with this initial order from the Mexican Navy," said Russ Bartlett, senior vice president, Defense. "SEMAR not only recognizes the value of a proven, reliable airframe with the T-6C+ in standing up its new training capability, but this selection also acknowledges the significant benefits our Global Mission Support team offers in providing on-the-ground service, support and training for the fielded aircraft."
The T-6C+ features a hard-point wing, Heads-Up Display, Up-Front Control Panel, an integrated glass cockpit and an advanced Esterline CMC Cockpit 4000 avionics suite that greatly expands advanced training opportunities. The systems are integrated with a Hands-On Throttle and Stick (HOTAS), providing the student pilot and instructor with a simpler interface to the digital cockpit. The CMC Cockpit 4000 avionics suite is the first in its class to incorporate a fully integrated and FAA-certified dual FMS/GPS navigation suite that meets the required navigation performance standards for current worldwide airspace equipment. The open architecture design of the Cockpit 4000 provides the flexibility to expand capabilities and continuously meet current and future training needs.
In addition to accommodating instruction in instrument flight procedures and basic aerial maneuvers, the T-6 delivers world-class training capability that is appropriate for teaching the most basic introductory flight training tasks through the more challenging and complex advanced training missions that could previously be accomplished only in far more expensive jet aircraft. The T-6 has been used to train pilots, navigators, and weapons systems operators from more than 20 countries around the world. To date, Beechcraft has delivered more than 825 T-6 trainers, which have amassed more than 2.2 million flight hours.
WICHITA, Kan., March 24, 2014 — Cessna Aircraft Company, part of the Textron Aviation segment of Textron Inc. (NYSE:TXT), announced today an upgrade program for the company's successful Citation CJ2+ business jet. The new Alpine Edition CJ2+ modification package from Cessna includes the installation of a Garmin G3000 avionics suite—making the jet compliant with Next Generation (NextGen) requirements. In addition to the avionics upgrade, the Alpine Edition CJ2+ features new pressurization and environmental systems, the latest diagnostics systems, and a redesigned cockpit.
Matt Wild, Cessna Alpine Edition program manager, says: "The Alpine Edition CJ2+ is just one more example of Cessna's continued investment in its products and services. With customers responding very positively to Garmin G3000 avionics and its touch control interface, we developed this program centered around putting the G3000 along with other system updates on an existing CJ2+ aircraft. The engineering flight test program is underway, with certification expected this summer and deliveries to start soon after."
In addition to the Garmin G3000 avionics suite, the Alpine Edition includes increased access to the cockpit with the removal of seven inches from the legacy pedestal, improved turbulence detecting weather radar, TCAS II, advanced Terrain Awareness Warning Systems (TAWS), a wireless media server, Garmin integrated cockpit and cabin Iridium phone, and high speed Internet capabilities from Aircell. The Alpine Edition CJ2+ package includes the installation of  automatic dependent surveillance-broadcast (ADS-B) capabilities, bringing the aircraft in compliance with this aspect of NextGen air traffic control requirements. Alpine Edition will also offer exclusive exterior paint schemes and interior packages as optional upgrades.
Cessna supports customers with the world's largest, most accessible service network and provides options and solutions that meet customer needs ranging from scheduled maintenance to a complete modification package. Cessna is offering the Alpine Edition modification at the company's U.S. Citation Service Centers. The Alpine Edition for the CJ2+ is an example of Cessna identifying a customer need and responding with a cost-effective pathway towards sustainable value and long term success for its clients.
Cessna is collaborating with Duncan Aviation to obtain the necessary Supplemental Type Certification from the Federal Aviation Administration (FAA) for the G3000 component of  this new upgrade.